Thursday, February 28, 2019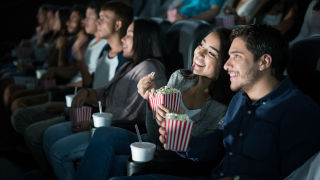 The Joseph A. Unanue Latino Institute is currently hosting a monthly "Movie Night," presenting films centered on Latino American themes. All films, screened in the Fahy Hall Language Resource Center and open to the Seton Hall community, portray characters and narratives historically significant to Latino Americans given their cultural impact through the use of storytelling.
The first movie presented was the Chicano and American classic "La Bamba." The film tells the real-life story of Ritchie Valens, a rising rock n' roll star whose life was tragically cut short due to a plane crash. Valens' death, along with Buddy Holly and J.P. "The Big Bopper" Richardson, is often cited as the "Day the Music Died." The title of the film is derived from Valens' hit single "La Bamba," which is ranked number 345 on Rolling Stone magazine′s list of the 500 Greatest Songs of All Time. It is the only song on the list sung in a language other than English.
The Institute's first movie night was a success, with those in attendance learning about the early days of the emergence of the Chicano movement and the life of a daring artist. Junior psychology major, Taylor Newkirk remarked, "I really enjoyed the movie night tonight, learning a little bit more about Ritchie Valens because I didn't know much about him. But when the songs were playing during the movie, I did recognize a few of them. It was really cool to connect all of that."
"I think this movie well represents success and also a general status of the Latino community. Ritchie was portrayed as a Mexican-American; people were thinking he spoke Spanish when he didn't. It kind of lays down the non-stereotypical aspect (of Latinos)," said Christian Martinez, a freshman biology major.
This past week, the Institute held its second Movie Night screening "Moonlight," a ground-breaking film that has received widespread critical praise and won multiple accolades, including an Academy Award for Best Picture. The film follows Chiron, the film's protagonist, as he emerges from childhood into adulthood amidst the backdrop of Liberty City, a low-income neighborhood in Miami struggling with a drug epidemic during the 1980s and 90s. The film is highly intersectional and weaves together the narratives of race, culture, and sexuality and notably explores the Afro-Cuban landscape in Miami. One of the film's best supporting actors, played by Mahershala Ali, identifies as a Black Cuban and delicately touches on the state of colorism within the Cuban community. As Remezcla's, "How Oscar Favorite 'Moonlight' Subtly Illuminates the Erasure of Miami's Black Cubans" article states, "Juan is referring to the fact that black Cubans tend to be invisible in Miami, and in the United States in general, their voices and experiences drowned out by the very vocal and largely white, anti-communist exile community. While Juan's identity as a black Cuban is tangential to the main story, this one-line statement adds a whole other layer of complexity to the film's representation of Miami: it not only raises the issue of racial difference within the Miami Cuban community, but also recognizes the diverse black identities inhabiting Miami, including African Americans, Cubans, and Haitians."
The final films to be presented this spring semester include "Selena" and "Stand and Deliver."
"Selena" tells the story of Selena Quintanilla-Perez, the famed performer and Queen of Tejano music – a unique South Texas blend that formed in the early 1900s when Mexican bands mixed in the accordion music of their Czech and Polish neighbors. The movie follows Selena's rise to fame, from sold-out concerts to best-selling albums, culminating with her tragic murder by a staffer. The critically acclaimed film features Jennifer Lopez in a "star making performance," as said by film critic Roger Ebert. Selena's tremendous impact on music and fashion continues today, ranking her as one of the most influential Latin artists of all time. George W. Bush—governor of Texas at the time of Selena's death—declared Selena's birthday, April 16, Selena Day in Texas. Her posthumous crossover album, "Dreaming of You" (1995), debuted atop the Billboard 200, making Selena the first Latin artist to accomplish this feat. As of 2015, Selena has sold over 65 million albums worldwide, making her the best-selling female artist in Latin music history. "Selena" will be screened on March 19 at 7 p.m.
"Stand and Deliver" is an inspirational film based on the true story of East Los Angeles high school mathematics teacher, Jaime Escalante. Per the film's Wikipedia page, Escalante first gained media attention in 1982 when 18 of his students passed the Advanced Placement Calculus exam. The Educational Testing Service found the scores to be suspicious because they all made exactly the same math error on the sixth problem, and they also used the same unusual variable names. Fourteen of those who passed were asked to take the exam again. Twelve of them agreed to retake the test and all did well enough to have their scores reinstated and prove that the students had not cheated. Escalante, whom had been visited by President Ronald Reagan and California governor Arnold Schwarzenegger, once stated to other interested teachers and observers about his teaching achievements that, "The key to my success with youngsters is a very simple and time-honored tradition: hard work for teacher and student alike." "Stand and Deliver" will be screened on April 25 at 7 p.m.
The Unanue Institute invites the Seton Hall student, faculty, and staff community to join us for the final monthly film installments and continued dialogue on Latino American icons in film.
For information on future events, scholarships, and all that is #JAULI, stop by the Institute's office located in Fahy Room 246. Don't forget to follow the Institute Twitter and Instagram @JAULISHU to stay up to date with their latest news and events.
For any questions and/or if you require special accommodations due to a disability, please contact the Institute's Graduate Assistant, Mr. Spencer Hinton at spencer.hinton@student.shu.edu.
Categories: Arts and Culture