Wednesday, September 12, 2018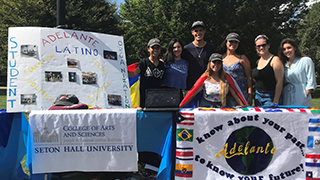 The Joseph A. Unanue Latino Institute is planning a host of events for Hispanic Heritage Month which begins this Sept. 15 and ends on Oct. 15. The events celebrate Hispanic and Latino culture and are open to all students, staff members, as well as, faculty members.
The Institute was officially started in 2005, growing from the Puerto Rican Institute which existed previously since the 1970s. The original mission still remains though of serving the Hispanic and Latino community at Seton Hall and the surrounding area. Scholarships, distinguished lecture series, and cultural events, like the ones planned for Hispanic Heritage Month, are just a fraction of the ways the Institute serves the population. These events help students celebrate and embrace their Hispanic or Latino heritage and help to teach others about what it means to have a Hispanic/Latino identity.
"Being a part of the Institute has been an incredible blessing. Because of them, I have been able to continue my studies at Seton Hall University, as well as improve my leadership skills. Through the generosity of the Joseph A. Unanue Latino Institute I have received the Lider Award for my soccer program at the Don Bosco Youth Center," said Jacquelin Rivas-Tejada, a senior nursing major. She was also awarded the Joseph and Carmen Ana Unanue scholarship and is proud to be Latina.
One of the goals for Hispanic Heritage Month is to educate members of the Seton Hall community about Latino/Hispanic culture. The Executive Director of the Institute, Stephanie Macias-Arlington, said, "I would like them to acknowledge the vibrant Latino community that exists at Seton Hall. There are many Latino American students, staff, faculty, and administrators here at the University, and we are proud of our culture and would like to share that with the community at large."
Some of the events coordinated include a session on Cultural Appropriation, a film screening of "Walkout", Cuban Salsa Night, and the El Caribe Gala, an annual event that celebrates Latino roots and leaders in the community.
Not all of the events scheduled are solely organized by the Institute but are in collaboration with other organizations on campus, such as Adelante, MLKSA, Lambda Theta Phi, and Lambda Theta Alpha.
While Hispanic Heritage Month happens once a year, events and services from the Latino Institute are offered year-round to serve the community.
"The Latino Institute is an amazing thing on campus because it gives a voice to the Latinos. It's a way of showing that we are present at Seton Hall University," said Gabriela Fernandez, a junior diplomacy and international relations major. Fernandez is also a student worker for the Institute where they employ other student workers to help maintain their daily operations.
No matter what grade level a student is, the Institute is committed to serving the Latino and Hispanic population through its programs and invites all students, regardless if they're of Latino descent or not, to apply for their scholarships available through the Seton Hall Financial Aid website. The Institute also encourages all members of the Seton Hall community to come out for the events being presented for Hispanic Heritage Month to learn more about the Latino culture. As Rivas- Tejada said, "I would like people to learn something new, no matter how big or small, but to be able to have a new understanding and appreciation of the Latino world. Because when this is done, they are able to then share that new information with others and spread the love and good of our heritage."
Check out the full listing of Hispanic Heritage Month events below:
September
11th: Unanue Latino Institute "Interest Meeting" - 4 p.m. (Fahy 246)
13th: Hispanic Heritage Month Kick-Off On The Green - Noon
18th: Cultural Appropriation Lecture - 7 p.m. (Beck Rooms)
19th: How Latino Are You? (Jeopardy) - 7 p.m. (AS 107)
20th: Walkout Film Screening - 7 p.m.
25th: Taco Tuesday - Noon (University Green)
October
1st: Afro Latino Lecture with Dr. Melissa Valle - 5:30 p.m. (Bethany Hall)
3rd: Piña Coladas - 1 p.m. (University Green)
4th: Spanish Spelling Bee - 7:30 p.m.
10th: ¿Y tú quién eres? - 7 p.m. (Beck Rooms)
11th: Cuban Salsa Night - 7 p.m. (University Center)
15th: Adelante Alumni Reception - 7 p.m. (Bethany Hall)
17th: El Caribe Gala - 6:30 p.m. (NYC)
All month long - Walsh Window Gallery Exhibit "Latinidad at Seton Hall"
Categories: Arts and Culture