Wednesday, October 28, 2020
On October 15, the Joseph A. Unanue Latino Institute concluded a month of highly anticipated events that helped celebrate Hispanic Heritage Month. The University's Hispanic Heritage Month was executed by a committee comprised of several distinguished administrators and faculty members, who each led various projects throughout the month. The month's theme, Navigating Latinidad, sought to explore what it means to identify as Hispanic or Latinx/a/o and how that identity takes form in American society.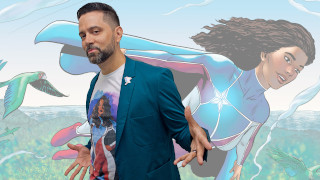 Through virtual events, the committee and Latino institute were able to explore the diversity of Latin American and Hispanic descent, history, culture, and identity. Month-long initiatives, including "Mi Voz," and the digital staff campaign, along with projects hosted by the Seton Hall Athletics Department, the Interprofessional Health Sciences Campus, Adelante, the Council of Africana Scholars, the Career Center, and Alumni Relations highlighted diverse professionals, students and alumni. While the month was comprised of several projects, the Latino Institute hosted a plethora of events to highlight Latinx culture, representation, and experiences.
The Institute kicked off the month with "Ella Triunfa: Women in the Workplace Panel," which was event rescheduled as a result of the COVID-19 pandemic. Other events included "2020 Election: Impact of the Latino Vote," "Education & Latinos in the U.S." and "Making Comics: The Future of Representation." Across all projects, the Institute and committee were able to garner nearly 500 total attendees for all the Hispanic Heritage Events. The Latino Institute also saw an increase in Instagram activity, with over 5,000 impressions on the content posted throughout the month.
A successful Hispanic Heritage Month has passed, but the Latino Institute and the Hispanic Heritage Month committee are set to brainstorm ideas for next year in the upcoming weeks. If you are interested in joining the Hispanic Heritage Month, please reach out to latinoinstitute@shu.edu.
The Latino Institute would like to thank everyone on the Hispanic Heritage Month committee for contributing to a successful and enlightening month filled with interactive, innovative, insightful, and entertaining events. For a recap of activities, including event recordings and archives, please click here. Special thanks to the committee:
Roberto Sasso
Associate Athletics Director, Student-Athlete Development & Leadership
Omayra Arocho
Associate Dean, College Engagement & Community Development, College of Education and Human Services
Mayra Colon
Secretary, College of Education & Human Services

Ana Campoverde
Director, Unanue Latino Institute
Alison Sotolongo
Director, Student Activities, University Center
Viannca Velez
Director, Alumni Communication & Digital Engagement
Jennifer Mazzetti
Staff Psychologist, CAPS
Angy Estrada
Student Affairs Coordinator
Marisol Rivera
Operation & Office Manager, Student Life, IHS Campus
Kelly Freeman
Director of Student Life, IHS Campus
Jorge E. Rivera
Assistant Director, The Career Center
Categories: Arts and Culture