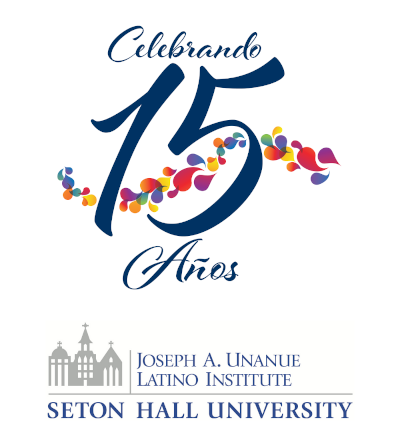 15th Anniversary Commemorative Logo.
This year marks the Joseph A. Unanue Latino Institute's 15th anniversary—a quinceañera as it's known across Latin American culture. To kick off the milestone celebration, the Institute is proud to unveil a commemorative logo that will be used for the next year in all activities and communications. 
In 2005, Seton Hall University established The Joseph A. Unanue Latino Institute with a special gift from Joseph & Carmen Ana Unanue. The Institute was created with the vision of providing scholarships and promoting the rich history of Latin America and Latinos in the United States. Maribel Unanue, daughter of Joseph and Carmen Ana Unanue and Chair of the Institute Board of Advisors says, "I am very proud to serve on the Board of the Joseph A. Unanue Latino Institute and to help further my parent's vision and mission to help improve the lives of so many beautiful, deserving students."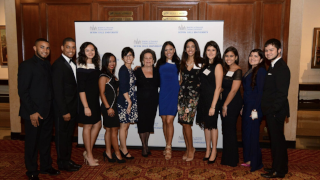 Students at Latino Institute Events.
The Institute proudly continues to honor the vision of Joseph & Carmen Ana Unanue by providing scholarships, cultural programming and professional development opportunities for undergraduate and graduate students. The Institute has awarded over $1.3 million in academic scholarships and encourages students to embrace leadership roles within the University and their communities.
Joseph Unanue may be widely remembered as the former Chairman and CEO of Goya Foods, Inc. but to his family and many of his employees he was simply "Papa Joe" and dedicated his life to helping others. His mission was to help Hispanic people and to promote Hispanic Culture. He was twice named "Man of the Year" by the National Conference of Christians & Jews and was awarded a Leadership Award by the National Minority Suppliers Association. He was even presented the Key to the City of Boston. In 1991, Hispanic Magazine honored Joseph with the National Hispanic Achievement Award. He received an honorary PhD from Seton Hall University and served as a member of the Board of Trustees of the Catholic University of America, his alma mater. "We have always dealt with the Hispanic market in this country. I wanted to help people from Spanish countries get ahead in this country," he once said. 
Carmen Ana Unanue leads a lifelong service to her family, church and community.  Her deep commitment to others distinguishes her as a woman of great compassion and vision.
She has served both as an executive board member and as the former president of El Museo del Barrio, New York City's only Latino museum dedicated to Puerto Rican, Caribbean and Latin American art. Her philanthropic partnerships include a partnership with Agua para del Pueblo project in Honduras which provides vital infrastructure to bring potable water to villagers without means to do so themselves. In addition, she has been instrumental in the building of schools in the same affected areas. 
In 2005, Carmen Ana was honored by the American Bible Society for her contribution and leadership to the Hispanic community. At the request of Pope John Paul II, she served on a ten woman steering committee that was responsible for organizing the first Catholic Pro Familia in Puerto Rico in September 1993. Carmen Ana was even honored by President Ronald Reagan for her community service. In 1984, Seton Hall University awarded Carmen Ana an honorary Doctorate of Humanitarian Service.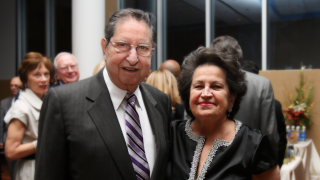 Joseph and Carmen Ana Unanue.
Together, Joseph and Carmen Ana Unanue's initiative and generous spirits are embodied in the mission of the Institute.  As a center of excellence at Seton Hall University, the Institute's academic, cultural and community programs inspire, educate, and empower its students.
The upcoming academic year will be filled with special celebrations to honor the Institute's 15th anniversary, starting with events during Hispanic Heritage Month, which is celebrated from September 15th-October 15th.
To learn more about the Institute and to get involved, please visit here »
Categories: Arts and Culture