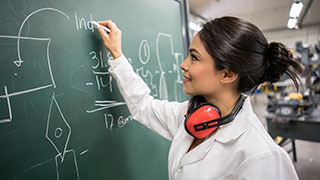 On Thursday, March 18, the Joseph A. Unanue Latino Institute, in collaboration with Women in Business, will host their second annual "Ella Triunfa: Women in the Workplace Panel" event. The panel will focus on women's experiences in the workplace and messages of empowerment from distinguished women in science, technology, engineering and math (STEM) fields. 
Initially, the national celebration of Women's History Month started as a week in mid-March to celebrate and recognize women's accomplishments and contributions to society. Eventually, the celebration would turn into an entire month to highlight the achievements in 1987. Women make up only 28% of the workforce in science, technology, engineering and math, according to the American Association of University Women. The underrepresentation of women in these fields prove to be a major issue in the workforce. 
"We are appreciative of the time these incredible leaders are giving to the students of Seton Hall. This leadership panel is meant to inspire students to pursue various fields and network with potential mentors. Last year, several students went on to create their own relationships with the panelists and we are excited to continue providing these opportunities. Representation matters and it's important for us to help students see themselves reflected in the guests we invite to the University," says Ana Campoverde, Executive Director of the Latino Institute. 
This year, the event will focus on women in STEM as it is important for students to hear and learn from a group of trailblazing women within these fields and enjoy enriching academic and professional insight. The event will be moderated by Dr. Cecilia Marzabadi, Professor in the Department of Chemistry and Biochemistry at Seton Hall. 
Panelists will include:
Dr. Julie Yu, Chief Program Officer, Amicus Therapeutics
Heather Munoz, Head of the Digital Platform Practice at Fidelity's Personal Investing Organization
Dr. Marie Foley, R.N., Dean of the College of Nursing, Seton Hall
Yeimy Garcia, Director of Quality Control, BioNTech US
Abigail Pierre, Seton Hall Student
The event will kick-off at 6:00 p.m. on Microsoft Teams on March 18 and will close with a Q&A session. The event will require registration and can be completed by clicking here.
Categories: Arts and Culture , Education , Nation and World