The Department of Languages, Literatures and Cultures offers many opportunities for students to study abroad. Study Abroad for one semester or year. For more information, please contact the Office of International Programs at (973) 761-9072 or oip@shu.edu.
Seton Hall Programs
Rome Connection
Explore the beautiful and captivating corners of Rome through Seton Hall's transformative first year study abroad experience. Rome Connection is a new embedded study abroad experience for first-year, undergraduate Seton Hall students. The first cohort will launch in Spring 2023 for the Class of 2026. Participants enroll in a special Core 2 course during the Spring semester of their first year with a faculty who will travel with the students to Rome for two weeks following the Final Exam period. Through Rome Connection, students will be brought beyond the postcard picture of the Eternal City and engage in a truly transformative journey.
Exchange Programs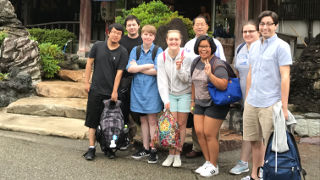 SHU-Japan Exchange Program Seton Hall University and Sophia University in Tokyo have exchanged students for the past 20 years as part of our SHU agreement to broaden and deepen the understanding between two countries. This four-week session has been offered by Sophia University with an excellent academic program to lead a greater understanding between Japanese and the people of other nations. The exchange program that Sophia University offered this summer introduces students to a broad range of issues in Japan and Asia. Students are given the chance to meet Japanese people and learn first-hand about their language, society, culture, religion, and history. The program includes numerous file trips as well as the academic program. All of the instructions/lectures are given in English. For more information, contact Dr. Shigeru Osuka at osukashi@shu.edu. 
Faculty-Led Study Abroad Courses