Wednesday, January 29, 2020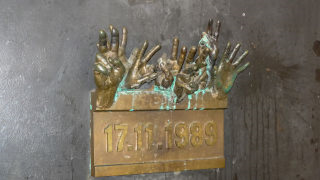 To mark the 30th anniversary of the Czechoslovak Velvet Revolution on February 13, the University Libraries, the Slavic Club, the Russian and East European Studies Program, and the History Department will be showcasing the 1969 film The Joke (Czech: Žert). The film is directed by Jaromil Jireš and based on the novel of the same name by Milan Kundera. The screening will feature English subtitles and will take place on February 13, 2020 at 6:30 p.m. in the Beck Rooms of the Walsh Library.
The Joke is Jaromil Jireš's brilliant adaptation of Milan Kundera's novel, which tells the fragmentary tale of a man expelled from the Communist Party because of a political joke. After "rehabilitation" in the mines and a stint in prison, he hatches a revenge plot against the former friend who betrayed him.
Made near the end of the Czech New Wave, The Joke is acknowledged as one of its greatest works.

Right after viewing of The Joke, a discussion about Milan Kundera will be led by Michelle Woods, author of Translating Kundera.
Everyone is welcome! Slavic food will be served!
Categories: Arts and Culture