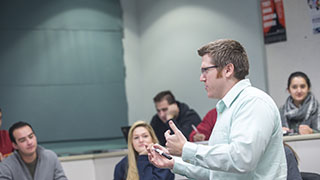 The Tuition Remission (TR) online application opens March 25 for the Summer 2019 sessions and April 1 for the Fall 2019 semester for all eligible employees, spouses, and dependents.
Tuition Remission-Job Related Graduate forms are to returned to Human Resources PRIOR to the class beginning to determine eligibility. Forms received after the class begins are subject to ineligibility.
Those looking to enroll in classes must first register for class(es) and then apply for the tuition remission benefit online. All employees wishing to use the benefit must complete the online application for themselves, their spouse, and/or their dependent child(ren) through Pirate Net (Profile Tab/Benefits/Tuition Remission Application).
Important Reminders:
Study abroad is not covered by the Tuition Remission benefit.
Tuition Remission does not cover the cost of tuition for withdrawals during Intersessions and/or Summer Sessions.
Employees are eligible for a maximum of 8 credits for Fall (and Spring) semesters.
Employees are eligible for a maximum of 9 credits for Summer sessions.
Your selection of courses during the summer may not overlap. Please check the beginning and ending dates of the courses carefully to ensure there is no overlapping. Courses that overlap will not be approved for the benefit.
Lunch hour waivers are not permitted during Intercessions and Summer Sessions
Questions regarding tuition remission should be forwarded to Victoria Gomez at victoria.gomez@shu.edu or (973) 761-9621, or Diane Russo at diane.russo@shu.edu or (973) 761-9606.
Questions regarding admission, registration and/or placement testing should be directed to Enrollment Services at (973) 761-9332.
Categories: Education