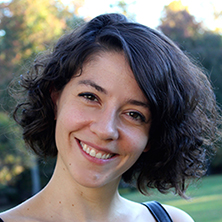 On Thursday, April 12, 2018, at 6:30 p.m. in Fahy Hall 236, writer and scholar Sophie Pinkham will deliver a talk Coming of Age in the Post-Soviet World. The talk will be followed by Q&A and book signing.
Sophie Pinkham is the author of Black Square: Adventures in Post-Soviet Ukraine (2016). Her essays and reviews have appeared in The New Republic, The Nation, n+1, The New Yorker online, and many other publications, on topics ranging from humanitarian smugglers to Tolstoy's wife's revenge. Pinkham began her career in international public health, working on drug policy and HIV for the Open Society Foundation. She is currently a PhD candidate in Columbia University's Slavic Department.
Praise for Black Square:
"Essential reading. What makes Black Square superb, to my mind, is Pinkham's keen eye for the dark comedy and tragedy that mark so many of her subjects. Her portraits of individual Ukrainians and Russians are as rich and nuanced as her synthesis of their national histories and politics. The result is a book whose literary achievement will outlast its timeliness." - Anthony Marra
"Black Square is as elegant, suggestive, ominous, beautiful, and deceptively simple as, well, a black square. Perhaps the only thing more impressive than the sheer number and diversity of people Sophie Pinkham has spoken to is how deftly she has woven their stories into a single compulsively readable narrative." - Elif Batuman
"Sophie Pinkham is a wry, erudite observer of human foibles, political illusions, and funny hats. In Ukraine and its complex and tragic confrontation with Russia (and itself), she has found the perfect subject. Anyone who wants an explanation of Ukraine's recent history that goes beyond Kremlin propaganda and Western media oversimplification should read this book." - Keith Gessen
"An empathetic and deeply humanizing look at troubled times and dangerous, revolutionary days." - Peter Pomerantzev
"Black Square is a remarkable historical memoir: humane, shocking and full of brilliant insight. Sophie Pinkham never succumbs to easy judgment. Her book is essential reading for anyone seeking a deeper understanding of the tragic and dangerous confrontation between Ukraine and Russia." - Rachel Polonsky
"This intimate portrait of contemporary Ukraine gracefully combines history, political analysis, and memoir…. [Pinkham's] eye for the idiosyncrasies of post-Soviet life and language is special." - The New Yorker
This event is co-sponsored by the Russian and East European Studies Program, the Department of History, and the Slavic Club. Partial funding has been provided by the College of Arts and Sciences thanks to the generous support of the President's Advisory Group members.
This event is free and open to the public. Refreshments will be served.
Categories: Arts and Culture