Thomas Rzeznik, Associate Professor and Chair of the Department of History, received national recognition—including top honors for scholarly excellence—from the Catholic Press Association (CPA) for American Catholic Studies, the journal he co-edits with Rodger Van Allen of Villanova University.
American Catholic Studies received First Place for General Excellence for a Scholarly Magazine in the CPA's annual awards. Rzeznik noted that American Catholic Studies has received this top honor for four out of the past five years. The journal features scholarly articles, book reviews, and essays on topics in the field. Rzeznik has served as the journal's co-editor since 2013.
"It is nice to be honored by one's peers in the world of Catholic publishing," said Rzeznik.
In awarding the General Excellence award, judges praised ACS for its "Consistent excellence in topics, editing, design, and presentation. This publication presents a serious, scholarly, topical image and appears to attract solid scholars who offer relevant topics of current interest."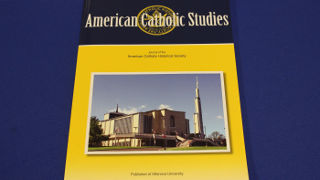 American Catholic Studies (formerly the Records of the American Catholic Historical Society) is the oldest, continuously published Catholic scholarly journal in the United States. It is sponsored by the American Catholic Historical Society of Philadelphia, an organization founded in 1884 by those concerned that Catholics were losing their history. In response, members of the society began collecting historical documents and working to preserve the Catholic past.
"We have published for more than 125 years, through the Depression, World Wars, and through all the changes that have taken place in scholarly publishing," said Rzeznik, adding "As a journal, we are quite proud to maintain our commitment to quality scholarship and also to ensure its appeal to a general audience through clear prose and engaging narrative."
A favorite aspect of working on ACS for Rzeznik is connecting with scholars in the field and collaborating with colleagues. He stated that among those who have recently contributed to the journal's popular book review section are Seton Hall colleagues Peter Savastano and Patrick Manning.
"It's really humbling to contribute to the long historical progression of ACS and to be part of a line of scholars who have helped establish this field. We want to be advocates for scholars and to bring scholarship to print, including the work of graduate students and those early in their academic careers."
In addition to top honors, Rzeznik receive a third place award for Best Essay Originating with a Scholarly Magazine from the CPA for his cover essay in the Summer 2016 issue on "The National Shrine of Our Lady of Czestochowa." The judges described the piece as an "important essay that clarified and contextualizes national identity and religion. Well written and interesting references."
The article arose from Rzeznik's personal connection with his Polish heritage and his many relatives buried at the shrine. He looked back at the history of the church in honor of the 50th anniversary of its dedication on October 16, 1966. Located in Doylestown, PA, a town 30 miles north of Philadelphia, the shrine was the vision of the late Father Michael Zembruski of the Pauline Fathers. Nearly 100,000 people were in attendance at the dedication, including President Johnson and his family.
Rzeznik writes: "This year marks the fiftieth anniversary of the dedication of "American Czestochowa," as the shrine has come to be known. Conceived in an era of Catholic triumphalism and taking shape amid Cold War concern for the fate of Catholicism behind the Iron Curtain, it drew support from Polish-American Catholics looking not only to honor Poland's patroness, but to celebrate and preserve their religious and cultural heritage."
Calling it a shrine to American Polonia, he shares, "Since its dedication in 1966, American Czestochowa has drawn millions of visitors who have sought to honor Mary and seek her favor. Yet more than simply reflecting the strength of Marian devotionalism among the Polish-American community, the ongoing popularity of the shrine stems from the larger role it has played for members of American Polonia. Well-situated geographically to be within reach of those of Polish heritage living in the Northeast, especially in Polish-American strongholds throughout New York, New Jersey, and Pennsylvania, it not only provides a space for Polish Americans to worship together in their native language and preserve their distinctive religious practices, it has also come to serve as an increasingly important custodian of Polish cultural identity as Americanization reshapes the community. The shrine places Polish-American heritage and memory under the Madonna's protection."
The University community can read the entire piece and issues of American Catholic Studies by visiting Project Muse at http://muse.jhu.edu/journal/544. In addition, the full run of the journal from 1887 onward is currently being digitized and will soon be available through JSTOR.
Categories: Arts and Culture , Faith and Service , Research