Wednesday, November 28, 2018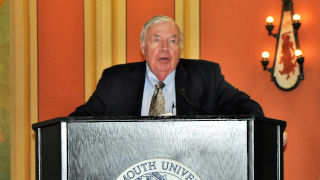 Credits to the New Jersey Historical Commission
Earlier this November, the New Jersey Historical Commission presented Seton Hall University alumnus Joseph Bilby '65 with the Richard J. Hughes Award. This honor is given to an individual whose lifetime achievements positively impact the field of New Jersey history.
The New Jersey Historical Commission has worked with Bilby throughout the years, encouraging and supporting his advancement in historical research. They consider him "a 'go-to' source for information on the state's military history." The New Jersey Historical Commission offered Bilby a grant to aid in the research for his first book, written in 1993 titled Three Rousing Cheers: A History of the 15th New Jersey Infantry from Flemington to Appomattox. He also received a publication grant for his subsequent book Forgotten Warriors that same year. He has been called on by the commission numerous times to serve as an expert panelist. Bilby said,
"I was not expecting to receive the Richard J. Hughes award. I was honored and overjoyed, as I joined a number of my favorite historians, including Dr. Carl Prince, who was my mentor when he was teaching at Seton Hall."
Bilby was born and raised in Newark, NJ. He graduated from Seton Hall in 1965 with a bachelor's degree in history. He was then commissioned through the Seton Hall Army ROTC program as second lieutenant. He served at Fort Gordon, Georgia, in the First Infantry Division in Vietnam, and at Fort Dix from 1966-1968, leaving active duty with the rank of first lieutenant. Following his service, he returned to the University and received his Master of Arts in history in 1982.
Bilby is an established author, having written 21 books and over 400 articles over the course of his career. His works focus primarily on New Jersey history and the Civil War. He is a columnist for the Civil War News, a monthly newspaper that covers current events and Civil War book reviews. Bilby has also made appearances on the History Channel's "Civil War Journal" and the Discovery Channel as an expert consultant on the Civil War. His latest work is New Jersey: A Military History (Westholme Publishing).
Other accolades Bilby has received include "Best New Jersey Reference Book" as deemed by the New Jersey Studies Academic Alliance in 2010, the Jane G. Clayton Award and the New Jersey Historical Commission Award of Merit in 2011. His book Civil War Firearms was awarded the Louisiana State University Civil War Center's Award of Excellence. Two of his books made the New Jersey Historical Commission's list of "101 Great New Jersey Books."
Bilby is retired from his job as supervising investigator for the New Jersey Department of Labor and is currently working as a freelance writer, historical consultant and assistant curator of the New Jersey National Guard and Militia Museum in Sea Girt, NJ.
Categories: Alumni