U.S. News & World Report's 2021 Best Graduate Schools has ranked the Seton Hall University (SHU) Master of Science in Speech-Language Pathology (MS-SLP) program first in New Jersey. In 2016, the last year U.S. News ranked SLP programs, Seton Hall also led the way as the top SLP program in the state.
Additionally, out of 261 master's programs offering degrees in speech-language pathology, the SHU MS-SLP has jumped 16 spots from #108 nationwide in 2016 to #92 in this year's ranking, placing the program in the top 100 nationally. The American Speech-Language-Hearing Association (ASHA) defines speech-language pathologists, also called SLPs, as experts in communication. The organization states that, "SLPs work with people of all ages, from babies to adults. SLPs treat many types of communication and swallowing problems. These include problems with: speech sounds, language and literacy, social communication, voice, fluency, cognitive-communication, feeding and swallowing."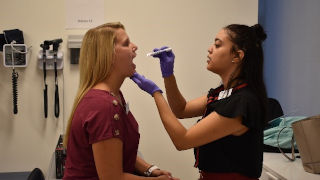 "We are thrilled that, once again, our SLP graduate program was the top program in New Jersey. We are so honored that the program continues to rise in the national rankings," said Brian B. Shulman, Ph.D., CCC-SLP, Dean of the School of Health and Medical Sciences.
The job outlook for the profession continues to be a positive one. According to the U.S. Bureau of Labor Statistics, "The employment of speech-language pathologists is projected to grow 27 percent from 2018-2028, much faster than the average for all occupations."
Vikram Dayalu, PhD, CCC-SLP, Chair and Associate Professor, says that "The SLP program's continual rise in national rankings is testament to the ongoing efforts put forth by our amazing faculty to offer an innovative, high-quality, and intensive graduate program; I am thrilled to celebrate the accomplishments of our faculty, students and alumni and I am very excited for the future of our program."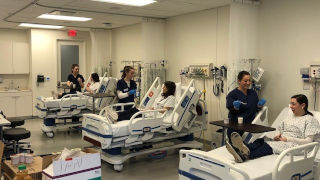 The Master of Science in Speech-Language Pathology program is accredited by the Council on Academic Accreditation in Audiology and Speech-Language Pathology of the American Speech-Language-Hearing Association. The program is currently accredited for the maximum time period of 8 years (2014 to 2022) and has maintained full accreditation since its inception in 1999 when the program began accepting graduate students. The Seton Hall MS-SLP coursework weaves together neuroscience, language, literacy, child development and a host of other topic areas. Students apply what they learn almost immediately in three clinical externships in addition to other clinical education opportunities including Experiential training Opportunities at our clinical partner sites, in-class labs, and hi-fidelity clinical simulation and Standardized Patient (SP) assessments in the Clinical Simulation and Standardized Patient Centers at Seton Hall's new Interprofessional Health Sciences Campus located in Nutley. With access to six (6) SLP research labs, graduate students join faculty-led research projects that cover a wide range of topics including child language disorders, literacy, speech and language production in neurologically impaired individuals, voice disorders and fluency.
Additional Resources:
Categories: Campus Life , Health and Medicine