Thursday, January 9, 2020
Seton Hall University offers the state's first entry-level Master of Science in Athletic Training (MSAT) degree program that is accredited by the Commission on Accreditation of Athletic Training Education (CAATE).
The Seton Hall MSAT program has been accredited by CAATE since 2003, which is of significant interest to prospective students looking for an established graduate degree program. In Spring 2019, the program received a subsequent 10-year re-accreditation from the accrediting body having received zero citations. Dedicated to their mission, the AT program's faculty continue to provide excellent education, mentorship and clinical opportunities that prepare students to become leaders in healthcare.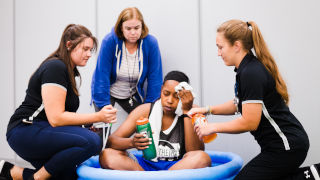 Per an announcement from the Athletic Training Strategic Alliance (BOC, CAATE, NATA and NATA Foundation), the Master's level has been established as the appropriate professional degree level required to become a Certified Athletic Trainer (ATC). This new mandate requires individuals to have a Master's degree in athletic training before sitting for the Board of Certification examination. While schools across the nation prepare to implement changes within their existing programs, Seton Hall's program is already ahead of the curve.
This new development within the profession positions the Seton Hall MSAT program as a top choice for aspiring athletic trainers. In addition to offering the MSAT, the program also offers an accelerated dual-degree route for high school students entering college and accepts transfer students who meet the prerequisites. Athletic training students can apply the knowledge they receive in the classroom setting to their experiences with athletes and physically active individuals at both on-campus and off-campus facilities. These include the state-of-the-art Clinical Simulation and Learning Center, Standardized Patient Center (SPC) and assigned clinical sites.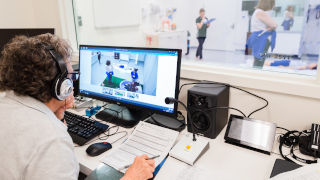 "We are truly setting the bar for other AT programs in the region. With our high-tech facility, an amazing amount of new opportunities are presented. Standardized Patient interactions, hi-fidelity manikin simulations, and state-of-the-art equipment allow for skills to be strengthened and collaboration to occur." said Vicci Lombardi, Ed.D, ATC, Chair of the Department of Athletic Training in the School of Health and Medical Sciences at Seton Hall University.
According to the U.S. Bureau of Labor Statistics' Occupational Outlook Handbook, employment of athletic trainers is expected to grow by 23% from 2016-2026. Additionally, Seton Hall is well placed within a metropolitan area known for having the highest employment level of athletic trainers giving our students access to top-tier clinical placements and job opportunities.
Interested Students: Request more information about the Seton Hall MSAT program and its dual-degree program for high school students entering college.
Facts about the Seton Hall University Master of Science in Athletic Training Program:
Seton Hall alumni work for the NFL's Cleveland Browns, New York Jets, New England Patriots and Kansas City Chiefs; Cirque du Soleil and the Harkness Center for Dance Injuries at NYU Langone Medical Center; Boston College, Indiana University, Princeton University, Rutgers University, Seton Hall University and the University of Pittsburgh; and many public and private high schools.
100% of graduates were hired upon graduating.
100% of students passed the Board of Certification (BOC) exam.
The five-year, undergraduate-to-graduate dual-degree option is a way for students to save time and money while earning the MSAT degree.
Additional Resources:
www.shu.edu/setonhallAT - video, brochure, alumni profiles and other resources about the Seton Hall University MSAT program 
Five-year dual-degree information
Categories: Athletics , Health and Medicine