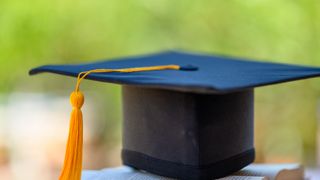 Seton Hall's School of Health and Medical Sciences (SHMS) will be well represented on staff at Hackensack University Medical Center. After interning with Eric Jones, MSHIA BSN RN, Director Department of Patient Care, Clinical Informatics and Operational Programs, Master of Healthcare Administration (M.H.A.) student Alyssa Martinez '23 and M.H.A. graduate Mohamed Abdelaziz '22 were offered permanent positions following successful completion of their SHMS program requirements.
Martinez and Abdelaziz worked with Jones and his team at the Hackensack Meridian Health (HMH) Corporate Office in Edison, NJ. Jones applauded them for the work they accomplished with his department, as well as the M.H.A. program at Seton Hall for their preparation. Jones is particularly impressed with the competency of M.H.A. alumni in data analytics, Tableau, and other applications, and added that the two had made network-wide impacts throughout HMH.
For 25 years, Seton Hall's 42-credit, essential M.H.A. program has prepared students for leadership and management roles in today's complex, dynamic healthcare industry. It is the only online/hybrid and on-campus program of its kind in New Jersey to be accredited by the Commission on Accreditation of Healthcare Management Education (CAHME). Students in the program are routinely selected for prestigious fellowships and nationally renowned scholarships from the American College of Healthcare Executives and the Association of University Programs in Health Administration.
Abdelaziz has accepted a full-time role with Jones' team, and Alyssa will join him this fall. For more information on the M.H.A. program, please visit https://www.shu.edu/academics/mha.cfm.
Categories: Alumni , Health and Medicine