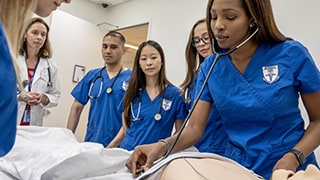 Seton Hall's Interprofessional Health Sciences campus – home to its School of Health and Medical Sciences and College of Nursing – will receive a major boost through federal funding secured by Congressman Bill Pascrell (NJ-9) and Senators Robert Menendez and Cory Booker.
"I have toured the IHS campus on several occasions," said Congressman Pascrell, "and each time I have been incredibly impressed with the teaching and learning that is taking place. I am delighted we were able to secure this needed funding for this worthy institution. The skills our future healthcare professionals will learn through these lab upgrades will benefit New Jerseyans throughout the 9th District and all of New Jersey for decades to come."
Anticipating continued increases in demand for healthcare education, Seton Hall requested funds for: 
enhancements to the simulation lab experience;
construction of control rooms;
simulation education equipment;
and to mimic points of care. 
These investments will help ensure IHS students receive as modern and authentic an experience as possible.
Kathryn Sanok, Coordinator of the Clinical Skills Lab in the College of Nursing; along with Jennifer McCarthy, Director of Clinical Simulation in the School of Health and Medical Sciences; prepared the funding proposal. They drew upon their years of experience and ambitious plans to keep the IHS students' experience on the cutting edge of healthcare education.
The project will provide new equipment and upgrades to the Simulation Center on the IHS campus to ensure future nurses, occupational therapists, physician assistants, physical therapists, speech language pathologists and athletic trainers are clinically ready before interacting with real patients. 
Sanok and McCarthy note: "The upgrades and equipment will allow our College of Nursing and School of Health and Medical Sciences to prepare future healthcare professionals to work in a patient-centered, integrated healthcare delivery system and will address healthcare workforce shortages and demand throughout New Jersey and beyond."
Joseph E. Nyre, Ph.D., president of Seton Hall, adds: "This outcome was the result of months of determined work by faculty and staff in our College of Nursing and School of Health and Medical Sciences, our Government Relations staff and Seton Hall advocates in the nation's capital like Congressman Pascrell and Senators Booker and Menendez. We are grateful to each of them for their commitment to Seton Hall and a healthier New Jersey." 
Categories: Health and Medicine