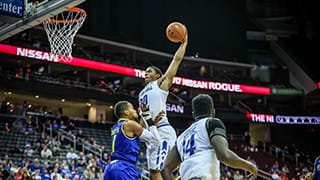 Two faculty members in the Department of Speech-Language Pathology (SLP), Sona Patel, PhD, and Caryn Grabowski, MS, CCC-SLP, BCS-S, were awarded a $180,000 grant from the New Jersey Commission on Brain Injury Research (NJCBIR) for their pioneering research on concussion. The interdisciplinary project, "Speech Indicators of Dysfunction and Recovery following Mild Traumatic Brain Injury," represents a collaborative effort with Director of Sports Medicine Anthony (Tony) J. Testa and the team of athletic trainers in the Seton Hall University, as well as Dr. Felicia Gliksman, Director of the Concussion Center at the Hackensack University Medical Center.
The CDC estimates that 1.7 to 3 million sports- or recreation-related concussions are diagnosed annually in the United States, with many more going undiagnosed (2021). The term "concussion" is well-known in sports, as athletes are more likely to experience head injuries than the general population. While concussions can be perceived as a mild form of injury, they are now categorized as traumatic brain injuries. 
The treatment of concussions can be challenging, as the recovery process can vary significantly from one person to the next. There are many instances where symptoms can linger on, and when they do, they can pose a significant impact on an individual's ability to return to competition as well as learning in the classroom. By partnering with the team of athletic trainers in Sports Medicine at Seton Hall, including Mercedes Cunningham, Kaitlin Kelly, Deja Craig, Gabe Scher, this team has developed a plan to examine the recovery process in new ways.
"In clinical practice, it is common to find that individuals with severe brain injuries experience significant dysfunction in speech and overall communication abilities. Changes also occur in individuals with milder brain injuries like concussion, however, because they are smaller and harder to recognize, such changes are not typically treated." Grabowski commented. 
Patel added, "Our preliminary work shows that these smaller changes are in fact measurable in brain injuries like concussion. So, our research aims to examine the relationship between speech changes and other physiological symptoms over time, which opens the door to more accurate diagnosis and symptom detection."
The research team is committed to supporting a considerable number of research training opportunities for students across disciplines within the University. This grant alone will provide $30,000 in support for students engaged in this research over the next two years. Practical interdisciplinary training is rare and offers a unique opportunity for students as part of the Seton Hall experience.
The team's work on concussion is part of an extended effort to apply interdisciplinary approaches to understanding, treating, and preventing neurological diseases and neurotrauma. Patel, an associate professor, and Grabowski, director of clinical education, are two of the founding members of the Academy for Disease Detection, Prevention, and Intervention (CD2PI). The Academy brings together scholars from multiple departments across the University to promote scientific collaboration in research using a "bench-to-bedside" framework. This framework enables them to study a range of conditions in new ways, with an initial focus on Parkinson's Disease, Alzheimer's Disease, and concussion, ultimately advancing the standard of care for individuals suffering from the effects of a concussion.  
Categories: Research