Seton Hall students enrolled in the ESL@SetonHall Intensive English Program on campus have been exploring off-campus locations as part of "Student Fridays" programming.
On Friday, September 17th, a group of Seton Hall students took the SHUFLY shuttle to the South Orange train station area to walk around and to learn about the Village amenities available. The group spent time in a coffee shop socializing over coffee and desserts. They walked through the NJTransit train station to get an overview of how to buy tickets and to figure out which train platform goes in which direction. They further walked together to the grocery store to make note of what food items are available. Importantly, they learned of the student discount available to Seton Hall students at the marketplace.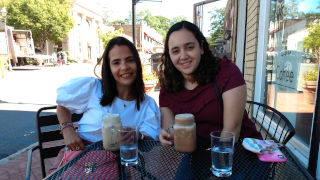 On the following Friday, September 24th, a second group of Seton Hall students rode the NJTransit Morris & Essex line from South Orange station to Maplewood. Once there, the group enjoyed the sunny weather while browsing through the business district, stopping into various shops and boutiques. They eventually found themselves at a diner café where they enjoyed coffee together while engaging in friendly dialogue.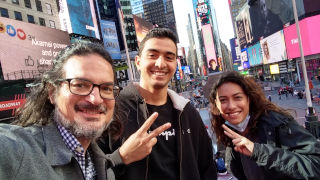 On Friday October 1st, a small group of Seton Hall students took the NJTransit train into NY Penn Station to spend the day exploring three popular Manhattan locations: Times Square, Highline Park, and Chelsea Market. The student group enjoyed the excitement of Times Square and even conducted a livestream on Instagram for their followers. Next, the group walked a mile-portion of the Highline Park, stopping periodically for pictures and to savor the incredible urban scenery. Finally, the group had lunch together inside Chelsea Market. From the many choices available at Chelsea Market, the group selected hamburgers because of its status as a stereotypical American food.
ESL@SetonHall is an intensive English program with a strong academic focus. The program serves individuals who wish to develop their reading, writing, speaking and listening abilities to participate fully in United States postsecondary settings (e.g., university/college). Student Fridays are community events for ESL@SetonHall students to explore the campus, the South Orange community, and the New York City area beyond. All students on campus are welcome to attend any Student Fridays event. Contact Dr. Bryan Meadows to learn more: bryan.meadows@shu.edu.
Categories: Arts and Culture , Nation and World