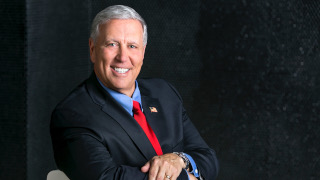 Our lives are imprinted with certain patterns, things we come to naturally, often passionately again and again. For Stephen Hoptay, Ed.S. '04/Ed.D.'07, the patterns have been academic achievement and servant leadership. Starting out as a firefighter in Linden, New Jersey, in 1979, Hoptay went on to join the state police, reaching the rank of captain before his retirement in 2011. Along the way, Hoptay earned three degrees from Seton Hall's College of Education and Human Services.
Stephen Hoptay began his journey as a Pirate by earning a master's of arts degree in education in 1991. Nearly a decade later, he returned as the first state police representative on campus during the Boland Hall fire. The experience helped inspire Hoptay's quest to continue his studies and to help others. Hoptay went on to pursue both an education specialist degree and an education doctoral degree, completing his dissertation in 2007. Along the way Hoptay remained committed to using what he was learning in his graduate work and passing it along. "Imparting the knowledge I gained at Seton Hall has been extremely rewarding," he says, "but more importantly, it's been helpful to others."
Over the years Hoptay has come back to campus to teach leadership in law enforcement as an adjunct professor in the Police Graduate Studies Program. He also works with undergraduate students as part of the Business Boot Camp sponsored by the College of Arts and Sciences. Hoptay's pitch to students is that passion, faith and fun are essential to what we do. "One of my goals is to have fun every day," he says, adding that work should be joyful.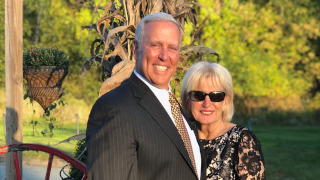 Stephen and Beverly Hoptay have created a scholarship fund to provide tuition support to state troopers studying at Seton Hall.
Hoptay values the varied experiences he's had at Seton Hall and wants to help others reach their own academic goals. With that in mind, Stephen and his wife Beverly initiated a scholarship that helps support New Jersey state troopers working toward their master's in police studies. "It was my time to give back to the troops," Hoptay explains, recalling the principle of fraternity that was instilled in him as a state trooper. With the decline in financial support police departments have previously provided for continuing education, the Hoptays wanted to help ease the economic burden of tuition for police studies graduate students.
Currently vice president of Asset Protection at Wakefern Food Corp., Hoptay oversees the company's investigative arm, which supports over 353 supermarkets around the country. "I know the program helped me ascend to the position I have and to give my wife and I a better life. It's time to give back to the University that helped me get here."
The Dr. Stephen and Beverly Hoptay Fellowship Fund recognizes Hoptay's Seton Hall education and his professional success in law enforcement in New Jersey. New Jersey state troopers who are enrolled in the Police Graduate Studies program, or who are planning to apply, are encouraged to submit an online application. 
"We are looking for students who, like Stephen, can demonstrate academic excellence, outstanding character and a commitment to advancing the greater good," explains Maureen Gillette, dean of the College of Education and Human Services. Gillette adds that Hoptay has been an outstanding role model for Seton Hall students. "We are grateful to for his commitment and heartfelt loyalty to the University and to this program in particular."
About the Police Graduate Studies Program
Seton Hall University's Police Graduate Studies Program provides leadership training for law enforcement officers, criminal justice professionals and government employees working in the New York/New Jersey area and beyond. The program's course of study is built around increasing core competencies in key areas of leadership and management of public sector organizations. More than 40 agencies are represented by police program graduates in top executive positions including the New Jersey State Police, the Port Authority of NY & NJ, the New York City Police Department, the New Jersey Transit Police, the United State Secret Service, Drug Enforcement Administration and Federal Bureau of Investigation as well as numerous local agencies.
On the federal level, Seton Hall graduates have protected every U.S. president since Richard Nixon. In addition, many senior positions within federal law enforcement agencies are staffed by program alumni.
To learn more about the Police Graduate Studies Program and the Hoptay Fellowship, please visit our web site.