Thursday, October 5, 2017
Eurocentric disciplines and inequalities due to sociology have an impact on education. What are the realities and what are purely beliefs? Four newly appointed professors in the College of Education and Human Services aim to be role models for a new generation of educators, approaching teaching and administrative methods holistically – in some cases, in a completely new manner - and then breaking them down in order to be engaging and effective in any environment. 
Edmund Adjapong, professor in the Department of Educational Studies; Richard Blissett, assistant professor in the Department of Educational Leadership, Management and Policy; Bryan Meadows, assistant professor in the Department of Educational Studies; and David B. Reid, assistant professor in the Department of Education Leadership, Management and Policy bring a robust combination of academic theory and practical experience with a hands-on approach that directly address core issues within the present educational landscape. 
They share a collective goal of bringing about change by many a new means necessary. 
In order to allow students and colleagues to become better acquainted with each new faculty member, they were invited to share their insights on how they hope to influence Seton Hall University as members of its community. 
What attracted you to Seton Hall?
Adjapong: I am very much a hands on type instructor. The mission of the University combined with the focus in the College of improving urban education were very important to me.
Blissett: The collegiality I perceived during my fly-out was attractive to me. In addition, the genuine interest the faculty and students showed towards the things I was interested in was very nice. Lastly, I very much resonated with the continued stated goals of various faculty to make their research matter to people who were going to make change on the ground. 
Meadows: The mission of servant leadership was a highlight to me. It is definitely an element I will to tie into my classes.
Reid: Seton Hall's great reputation and strong commitment to developing quality educators was the primary reason I was attracted to this position. Faculty clearly care for their students and the College prioritizes service not only to students, but to the broader community.
What as part of your background, experience and expertise do you bring to the College?
Adjapong: Science is a Eurocentric discipline. There were no role models that demonstrated to me that I could be a scientist growing up in the Bronx. It was my ninth grade teacher who changed that. He was my inspiration for incorporating Hip Hop into science. Prior to him, science was not engaging to me. He attached scientific principles to my identity on a personal level, making it more hands-on, and allowing us to bring our outside selves into the classroom. Breaking down barriers to learning and preparing teachers to be effective in any space is what I hope to bring to this school. 
Blissett: In terms of academic content, I have deep experience in quantitative and computational methods, and I also concentrate on often-ignored dimensions of people's work in education policy, especially as it relates to the politics of policymaking. In addition, I have contributed to a variety of institutional initiatives in my past, most prominently those dealing with diversity and inclusion, and I am willing to bring that experience to my service here at Seton Hall.
Meadows: As an instructor in the TESOL program, I am going to prepare teachers to teach ESL (English as a second language) in K-12 settings. Once again, I truly believe in the mission here. In general, I feel that we get too lost in theory and not the realities of classrooms. Exploring new and better ways to make the next generation of teachers effective is a principle objective in my position here at Seton Hall. I have always been interested in languages. I'm from Houston, which has a large Vietnamese population. As a result, I began to learn that language. I've since become interested in different Asian cultures and, like many, taught English in Japan. I still have Japanese "parents." 
Reid: For the last four years, I have spent time in K-12 schools studying the behaviors, responsibilities, and daily work of school leaders. Prior to beginning my doctoral studies, I was a Special Education teacher and K-8 instructional coach. My experiences in education and specifically in schools has helped me better understand what is expected of both teachers and school leaders, and the ins and outs of how schools operate. I will bring that knowledge and experience with me to Seton Hall in both my teaching and research.
What are some of your primary objectives as a new member of the College of Education and Human Services? How do you wish to influence the College, the department and/or the University?
Adjapong: I wanted to go into pharmacology during my initial exposure to science. However, the interest in devoting my work to urban teaching spaces and finding ways to deliver the material in a manner that would resonate with teachers and students continued to grow. My goal is to prepare undergraduate teaching students be effective in underserved environments. I'm going to bring my students to the Bronx, introduce them to research projects and community based programs, to demonstrate how to be effective educators in different communities. I intend to move away from traditional approaches of teaching and learning. My dissertation was on Hip Hop pedagogy. Hip Hop was birthed as a social justice movement. I want to bring that to the teaching practice. The culture was born in the 70's and is divided into various creative elements: MC, DJ, Graffiti, and B-boy. The B-boy in movement is kinesthetic. Graffiti represents the visual arts. In the role of MC's, there are usually two – co-teachers (students) empowering peers to understand. DJ is about technology. He/she creates a playlist – their playlist – during class. Now the B-boy introduces kinesthetic activities, using students as molecules. Molecules are solid, they stick together, and are structured in shape. Let's have students physically move and do that. I want to empower students of color to pursue careers in STEM fields. 
Blissett: Statistics do not exist without humans, and as such I try to bring a more social/political focus to my courses in quantitative methods. I like to teach, for example, how elements of the statistical approaches to inequality are based on core beliefs about what is right and wrong. I plan on making statistics meaningful and attached to people's own social perspectives so that they can both conduct thorough quantitative analyses and understand the deeper meanings behind common analyses. In addition, I hope to form more connections between the work we do here and those communities around us that might need it.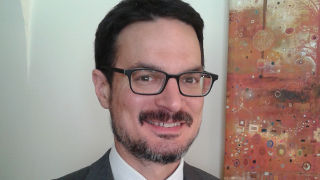 Meadows: I want to create pathways in and out of programs – to advocate for English learning students – and to focus on inclusion. We have nationalism in the classroom. What is American Culture? How do you teach it? The answer is, it depends on who you are or who you ask. My ancestors survived the Wyoming Massacre. Had they not, I wouldn't be here. 
Reid: My goal is to learn from a variety of people in the College, the University, and the surrounding areas, as well as work with current and aspiring teachers and school leaders to support their development as educators.
All work and no play can make anyone dull, and professors are no exception. Therefore, in an attempt to get to know them better, each were asked what they enjoyed doing in their spare time.
Adjapong: As if you could not tell already, I am a very big music enthusiast!
Blissett: I really enjoy comedy, and I also participated in the local comedy scene while I was in graduate school, including performances in stand up and sketch comedy and a lot of work in improvisation. One of the fringe benefits of moving to the New York City area will my proximity to comedy clubs and such. One day, I actually want to see Saturday Night Live – live!
Meadows: I always loved Japanese culture, and am a fan of anime and martial arts. I've studied different martial arts in the past. 
Reid: I am a sports enthusiast and am very excited to attend various events at Seton Hall. I enjoy playing golf, spending time with my family and running with my dogs. 
The College of Education and Human Services welcomes these four distinctive faculty members to the Seton Hall community. If early predictors are any indication, consider registering for their courses at your first opportunity. It would be unfortunate if you were excluded. 
Learn more about the College of Education and Human Services at http://www.shu.edu/education/.
Categories: Education