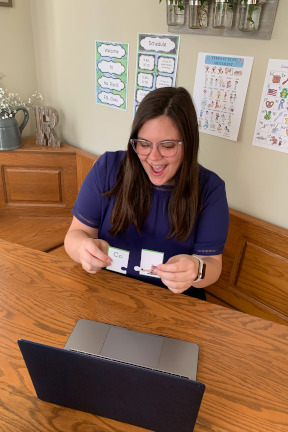 Ms. Alissa Ricci teaching her K-3 students online.
When the K-12 school closings started happening in mid-March, Ms. Alissa Ricci was prepared. She had just completed the TESOL Graduate Certificate program from the College of Education and Human Services three months prior in December of 2019. Reflecting back on her experience at Seton Hall University, she remarked that "the TESOL program was the best thing I've done. It's reignited my love for teaching." Ms. Ricci currently teaches ESL to elementary-age students with Middlesex Township Public Schools.
Ms. Alissa Ricci completed her initial public school teacher certification work in K-6 elementary general education (i.e., language arts, mathematics, science, and social studies) in conjunction with a B.A. and an M.A.T. degree at Fairleigh Dickinson University. After gaining some experience in the field as an elementary teacher, she felt drawn to the area of ESL and looked into completing an additional teacher certification. She looked at Seton Hall due to her family's long association with the university. She selected the TESOL Graduate Certificate program because of the program scheduling which would allow her to complete the 15 credits within one calendar year while still maintaining her full-time teaching position.
Since the switch to distance learning, she reports daily interactions with her English Learner elementary students via Google Meet/Hangouts. With the youngest students (ages 6-8), she does a lot of physical activities where students connect movements and gestures with basic English vocabulary, including the letters of the alphabet. In the Google Meet environment, she plays a form of Simon Says with the young ones to teach them body part vocabulary one level above the obvious ones. She explains, "The eyes and nose are too easy for them. We do forehead, eyebrows, and stuff like that."
She said this approach to ESL which is full of visuals, modeling for students, and movement is informed by her TESOL coursework at Seton Hall: "Professor Sefchik provided us so many classroom materials! I use them all. And she demonstrated so many useful techniques. I just love her."
With the older children (ages 9-10), she helps them to develop their research writing skills in English. For example, she sets up a shared Google Doc so that she can write collaboratively with the English Learner students, providing appropriate support as needed. This includes sentence starters. She explains, "These make a big difference for them, especially the lower proficiency students". She says that the shared screen feature makes it easy to work "virtually" side-by-side with her students.
As Ms. Ricci wraps up her first year as an ESL teacher, she notes that she is being asked more by teacher colleagues for advice in how to work with English Learner students in their classrooms. She says, "I feel more confident in myself now to suggest things to help English Learner students in the gen ed classroom". She elaborates: "I'm bringing more awareness to the gen ed teachers. And doing more advocacy". In these reflections, one may detect Ms. Ricci's growing visibility and influence across the district as a resource for teachers looking to better serve English Learner students. Seen in this light, Ms. Ricci is practicing servant leadership in fulfillment of the university mission.
Ms. Alissa Ricci, TESOL Grad Cert alumna, represents the best in the field of ESL education and the university spirit of the College of Education and Human Services. She is a K-3 ESL teacher with Middlesex Township Public Schools.
About the TESOL Program
The TESOL teacher certification program at Seton Hall University provides individuals with the knowledge, skills, and dispositions to serve English Language Learners (ELLs) in K-12 academic settings. The program consists of 15 semester credits offered in a hybrid format (in-person/on-line) for maximum convenience. The program sequence is an ideal pathway to an additional instructional certificate for practicing teachers.
Categories: Education