Wednesday, September 11, 2019
Students from the College of Education and Human Services honed their teaching skills in an unusual setting this summer: tennis camp. Four nights a week, a group of Seton Hall students trekked to the Althea Gibson Tennis Center at Branch Brook Park in Newark to head up the education portion of the Greater Newark Tennis and Education's (GNTE) summer program.
According to a recent article in the Star Ledger that featured the program, "It started with five kids and finished with 70 after the first year. Now 130 are registered, but on any given evening, 50-55 kids learn the game for two hours Monday through Thursday and for another two hours on Saturday morning." 
After about an hour of tennis instruction, campers settle down for a short lesson in anything from history, to working on resilience and developing emotional intelligence. After their lesson the "campers" (ranging in age from 5 to 12) return to the courts for more tennis.
Free for both parents and children, the tennis camp uses the sport as a springboard for learning— both on and off the court.
As noted by the Star Ledger article, "Charles McKenna, the executive director of the program, said 'We want to give kids the idea that there is a bigger world beyond than what they may know.' Campus big. University big. Globally, big. That's how far the organization wants them to go."
And that's where Seton Hall's College of Education and Human Services (CEHS) comes in.
The education program was designed by Counseling Psychology doctoral students Pattric Davis and Shaneze Gayle. Seton Hall undergraduates joined Davis and Gayle to teach lessons four nights per week.
Seton Hall undergraduates Valerie Villanueva '20, Jilliane Laurizio '20, Maylin Rivera '20 and Cecelia Pateman '21 volunteered for the program after hearing about the opportunity from CEHS Dean Maureen Gillette and Associate Dean Omayra Arocho. Pateman said she knew she wanted to volunteer right away. "I immediately hopped on the opportunity," she said.
Although constructed to leverage sport as a means of learning, the nontraditional educational setting can present some challenges, making it "a little tougher," Rivera said. The setting "involves a lot more 'go with the flow'" than working in a classroom, Pateman said.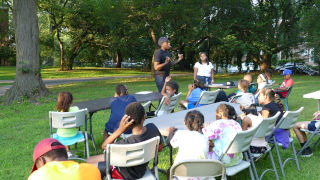 Pattric Davis and Valerie Villanueva teaching students at GNTE tennis camp.
But both Rivera and Pateman agreed that the unique setting was good experience for them because they have more flexibility with curriculum and are learning to be more adaptable. Pateman said that within reason, "we can do what we want with the lesson rather than following the kind of strict guidelines," education students are required to follow in a field placement. "You have to be adaptable because you don't know all of their names and you don't know what it's like at home. You don't know all the important details that you would often have in a traditional classroom setting," said Rivera.
Rivera and Pateman agreed they see themselves filling in the gaps of a traditional classroom education because the campers learn about topics that aren't typically taught in school. The students most likely "won't learn about emotional intelligence" in a classroom setting, Pateman said. Rivera added that the topics they talk about with the campers "can help them in any environment."
Some of their most recent lessons focused on the lives and legacies of Arthur Ashe and Althea Gibson, two African American tennis players who broke barriers in professional tennis. Gibson, who in her later years lived just down the road in East Orange, was the first African American to win a grand slam title at the French Championships in 1956. In 1957 and 1958, Gibson won Wimbledon and the Nationals, the precursor to the US Open. Overall, Gibson won 11 grand slam tournaments, including five singles titles, five doubles titles and one mixed doubles title. Arthur Ashe was the only black man ever to win the singles title at Wimbledon, the US Open and the Australian Open. Rivera said, "hopefully the camp goers will find those stories inspirational and see they too can achieve great things."
Retired tennis pro and Director of Tennis for GNTE Bob Bynum puts his 40 years of experience coaching and playing tennis to use as a tool for not just athletic improvement, but the overall development of the young people in his charge.
With his own unorthodox introduction to tennis fresh in his mind (a music teacher told him and his classmates they could join the tennis team or receive a "D" in his class), Bynum knows first-hand the power the game can have on young lives.
"For me, tennis made all the difference. But not just on the court. It instilled a discipline and preparedness in me that had great impact on my education, my sense of community and even my sense of opportunity in the world at large." Now, Bynum uses his tennis expertise to inspire a love for the game and all it can bring to Newark's young people.
Valerie Villanueva sees a connection between sports and self-improvement, too. Villanueva said it was not only "enriching" to apply her education training outside the classroom, but also "rewarding to work with the students on communication skills alongside notable tennis figures so they saw connections between these lessons and their blossoming tennis skills."
"This program goes to the heart of what we do as educators," said College of Education and Human Services Dean Maureen Gillette. "The community benefits and our students benefit from honing their teaching skills outside the classroom." She continued, "Teaching at GNTE helps develop our prospective teachers into adaptable, multifaceted educators who are readily equipped to serve others in any setting." 
Jilliane Laurizio said, "The opportunity of teaching at GNTE's tennis camp this summer made me even more excited for my full-time student teaching in Newark at this fall at the Lafayette Street School." 
Rivera and Pateman hope the program continues because it "allows the students to explore their passions, which may or may not be tennis, and have this academic portion, too." Pateman said.
Bynum said these last few years he has faced the obstacle of sustaining consistent participation in the tennis programs, but notes that this year the program turned an important corner. Providing free programming for entire families made a major difference in attendance levels throughout the summer and fostered a family togetherness around a common pursuit that has become much rarer in the era of cellphones and social media.
Given the program's success, Bynum is looking to expand GNTE's tennis program into the fall and says the program will continue "if the funding is there."
"If the program is there, we'll be there," said Dean Gillette. "Having seen our students in action here, we wouldn't miss this for the world."
To support GNTE's programming, visit the Greater Newark Tennis website.
Categories: Education