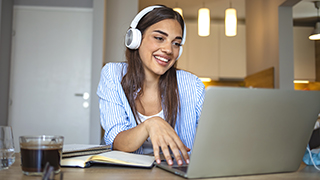 This edition of student spotlight introduces Mr. Denis Qosja, an alumni student of the ESLP@SetonHall intensive English program. Denis responded by email to a series of interview questions. Here is his story.
"Before coming to the United States, I was a teacher in my country, Albania. I was teaching Arabic language and Islamic classes. After teaching for a year, I had an opportunity to visit the United States. While I was staying in America, I thought to study a graduate program here, but my English wasn't sufficient. I looked for some opportunities to improve my English enough to join a graduate program and I found out that the ESL@SetonHall program was one of the best opportunities."
Denis says that he first heard about the ESL@SetonHall program from friends who had suggested the program to him. His friends had studied with the program previously and were pleased with the classes. Denis shared the following about the program coursework:
"I had studied English classes almost 8 years before I started the program at Seton Hall when I was in high school. However, I hadn't been practicing my English for 8 years, so I had forgotten a lot. When I started the program, I started to remember the things that I had learned before. To be honest, this program has helped me a lot in improving my English. We were studying different classes at Seton Hall as pronunciation classes, grammar classes, reading and writing, listening and speaking, academic writing etc. All of these classes have helped me to improve my English which was my goal. I want to particularly highlight the academic writing classes because I really wanted to improve my writing skills to help me with my future assignments in graduate school. One thing that I learned -- and I am very thankful to the instructors for this -- is how to write an academic essay. In writing classes, my favorite assignment was the last assignment of the chapter. In each chapter we had to write an essay about a topic related to the chapter. I was waiting for that assignment to show my writing skills and to improve myself in each assignment. Every class has helped me and, for that, I want to thank all the teachers."

We asked Denis what lies ahead for him in his academic and professional journey. He shared the following:
"At this moment that I am speaking, I want to say that I got accepted into a Master of Arts program in Interreligious Studies, which is my academic field of specialization. To be accepted in this program, I had to take an IELTS or TOEFL English test, and I passed it. I am really thankful to Seton Hall and to the teachers of ESL program at this university."
We in the ESL@SetonHall program celebrate Denis's accomplishment and look forward to the many successes that lie ahead of him in his studies. As Denis continues forward in his MA graduate program, he will always have a home here with us on the Seton Hall campus.
The academic-based ESL@SetonHall intensive English program prepares individuals for success in postsecondary undergraduate and graduate programs in the United States. During morning coursework, students study reading, writing, listening, and speaking using academic materials. During afternoon coursework, students select from a range of elective classes including TOEFL Preparation, ESL All Skills, English for Specific Purposes, and Pronunciation Skills.
Categories: Alumni , Arts and Culture , Education