A photo of honorees Dr. David Adinaro, Debeka Bennett, Ph.d., and Daniel Katz, Ph.D.
The College of Education and Human Services and the Department of Alumni Engagement & Philanthropy were proud to honor Daniel Katz, Ph.D., David Adinaro, MD '93, and Debeka Bennett, Ph.D. '18 along with alumni from the College of Communication and the Arts at the annual Spring Alumni Reception and Awards Ceremony on April 26.
The Schreitmueller Faculty Servant Leader Award is presented annually to a faculty member who demonstrates outstanding service to the college through dedicated years of teaching, mentoring and leadership.
This year's honoree, Daniel Katz, Ph.D., has been a member of the Department of Educational Studies faculty at the College of Education and Human Services since 2002.  Prior to joining Seton Hall, Dan was a high school English teacher in Hawaii where he taught at the Punahou School and at St. Francis School. At Seton Hall, he teaches courses on educational foundations, diversity, curriculum, and English methods.
His service to Seton Hall and the College of Education and Human Services includes:
Chair, Department of Educational Studies (2 terms, July 1, 2016- June 30, 2022)
Secondary Education Program Director, various terms since 2002
Former Chair, FACE
Current Chair, Nominations and Election Committee
Faculty member, Diversity Policies Subcommittee
Long standing member of Valedictory Selection Committee
Katz also contributes to the educational community outside of Seton Hall.  He has served on the Community Education Council, District 3, New York City for two terms and has shared his expertise during various media appearances including Educator Voice - PBS NewsHour Classroom.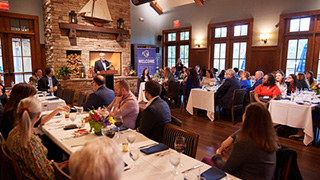 Dean Joseph J. Martinelli speaking at the alumni reception.
The Hanbury Mission Award recognizes an alumnus or alumna from the College of Education and Human Services who embodies the passion for service that Monsignor Kevin Hanbury, Ed.D. had throughout his life.
Hanbury Mission Award Recipient David Adinaro, MD is a 1993 graduate of the Psychological Studies program in the Department of Professional Psychology and Family Therapy.
Dr. Adinaro has delivered compassionate care to those often feeling at their most vulnerable in the emergency room. He spent 17 years as an emergency physician and leader at St. Joseph's Health based in Paterson, NJ. There he served as Chief Medical Officer, Patient Safety Officer, and Chief of Emergency Medicine.
During New Jersey's battle against the COVID pandemic, he set up and ran a 250-bed field hospital that helped support hard hit hospitals at the beginning of the pandemic. He was then named as the Deputy Commissioner for Public Health Services in the New Jersey Department of Health. He also chaired the state's COVID-19 Vaccine Task Force and led the unprecedented efforts to immunize NJ residents.
Before pursuing his career in medicine, Adinaro served Seton Hall University as an Admissions Officer and recruited scores of promising young people to become Seton Hall students. 
The Dr. Raymond Hanbury Early Career Award is presented to a recent graduate of the Counseling Psychology Ph.D. program who embodies the ideals that Ray demonstrated by donating a portion of their time and talent to those who need it most.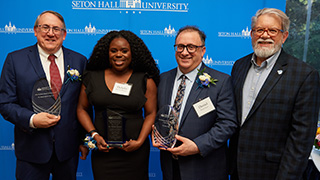 Dean Joseph J. Martinelli with the Hanbury and Schreitmueller Honorees.
The inaugural recipient of the 2023 Dr. Raymond Hanbury Early Career Award is Debeka Bennett, Ph.D., 2018 graduate of Seton Hall University's Counseling Psychology Program.
Bennett has dedicated a significant amount of her time to educating the community about mental health and diversity, equity, and inclusion topics. She has partnered with several organizations and individuals within New Jersey, Maryland, and Florida to host and facilitate seminars and giveaways to the local community. 
Some of Bennett's community outreach activities include: 
Collaborating with Irvington Public Library (Irvington, NJ) to host free workshops on mental health topics that was affecting the local community.
Partnering with a Black-owned bookstore in Newark, New Jersey to host a book giveaway block party.  Attendees received breakfast and lunch as they received their books and had the opportunity to meet various authors. This event was acknowledged by the mayors of Hillside, Newark, and East Orange.
Facilitating free online workshops for the community to learn more about mental health: Bennett created cards to help parents, teachers, families, and organizations have intentional and healthy conversations about mental health and cultural diversity. 
Congratulations to Katz, Adinaro, and Bennett! Their acts and the ripple effect of their servant leadership will continue to profoundly impact numerous communities for many years to come.
Categories: Alumni , Education
---
8th Annual College of Education and Human Services Spring Alumni Reception