Seton Hall undergraduate students participating in the virtual exchange.
For the undergraduate students within the College of Education and Human Services enrolled in the EDST 3900/CORE 3882 Comparative Education Studies course, the shutdown of campus was a dual disappointment. Not only did they lose the opportunity to complete class sessions on campus, they also lost the opportunity to complete the travel portion of their class. They were scheduled to travel at the end of the spring semester to Tokyo for 9 days where they would complete firsthand visits to primary schools, secondary schools, and universities.
Fortunately, there was a way for the EDST 3900/CORE 3882 students to travel virtually this semester. They connected online with a class of graduate students at Surcolombiana University, which is located in Neiva, Colombia. The class, Exchanging Perspectives about Education, was attended by practicing teachers each pursuing a masters degree in education. The course instructor was Prof. Jairo Castañeda. The link between the two classes was the personal acquaintance between Prof. Castañeda and Dr. Bryan Meadows, a co-instructor of the EDST 3900/CORE 3882 course at Seton Hall.
Using online technologies, the two sets of students completed a dialogue exchange assignment developed around the skill of perspective-taking. This skill was a key learning objective in the EDST 3900/CORE 3882 syllabus. Whereas the Seton Hall students were scheduled to practice their perspective-taking during the study abroad portion to Tokyo, here they had the opportunity to complete similar tasks in virtual spaces with their counterparts in Colombia via online technologies.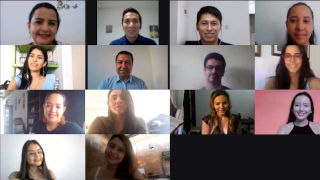 Surcolombiana University graduate students participating in the virtual exchange.
In the first step of the exchange assignment, students in the two locations (Seton Hall and Surcolombiana) did minimal online research about the other side's education system. In the next step, groups of students created infographics highlighting some key information about the other's education system. Students on both sides used popular online graphics apps to develop the infographics, a mixture of images and text. For the third step, students exchanged the infographics with their counterparts at the other location by posting their items online. Each group viewed what their counterparts had to say about their education system (i.e., What did graduate students in Colombia express about the US schooling system?) and then completed a written reflective piece. Teacher-provided writing prompts guided the students to reflect on the exchange of perspectives. Specifically, the writing task led students to think about what assumptions about formal schooling systems the infographic exchange revealed to them. Finally, the two sets of students posted verbal commentary on one another's infographics in a shared virtual space. This final step inserted a personable quality to the exchange task as both sets of students were able to hear the voices of their counterparts and to receive a personalized message.
Here is what the 3900/3882 students had to say about the exchange:
"Although it was unfortunate that we couldn't make it to Japan as planned, the experience working with students from another country is amazing, nonetheless. There are many things I thought I knew, and there are other things I didn't know that I didn't know but should know--until other people from outside our education system pointed them out to me. It was an eye-opening learning experience to say the least." — Br. Kris Tran, SDB
"Although this semester ended in a way that no one expected, I wouldn't trade the experience we had for anything. Doing a virtual cultural exchange is something we wouldn't have been able to do otherwise, and it is an experience unique to a class like ours. I am so glad to have virtually met my peers at Surcolombiana!" — Tatyana Guzman
The faculty members also shared their thoughts on the exchange. Here is what Prof. Daniel Aronoff, EDST 3900/CORE 3882 co-instructor, had to say:
The Seton Hall students exemplified professionalism in their exchanges with the students in Colombia. Their questions, insights and interactions showed they understood the importance of establishing open and positive communication in a global community and how this type of open dialogue eliminates misconceptions and misunderstanding. It also fosters mutual understanding and respect of others.
Prof. Jairo Castañeda, Surcolombiana University faculty, shared the following:
The experience of working collaboratively with Seton Hall teachers and students has been rewarding. Surcolombiana students are very grateful for the exercise. They realized that sometimes to recognize who we are, it is necessary to see ourselves through the perspective of others. We hope that such experiences will be repeated in the future, even on a larger scale.
The virtual intercultural exchange is one way that faculty and students responded with creativity and initiative to the campus shift to distance learning. The exchange project also exemplifies the ways that Seton Hall undergraduates are being prepared for academic and professional success in an increasingly globalized world. The Department of Educational Studies looks forward to future collaborations with Prof. Castañeda and Surcolombiana University.
Categories: Education