Wednesday, October 28, 2020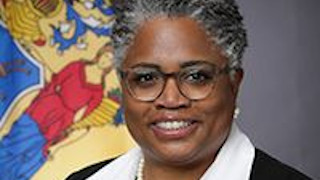 New Jersey governor Phil Murphy recently nominated Angelica Allen-McMillan, Ed.D. to be the next Commissioner of the New Jersey Department of Education. Allen-McMillan is a 2006 graduate of Seton Hall's doctoral program in education leadership. She will serve in an acting capacity pending her confirmation by the New Jersey State Senate.
Associate Professor Charles Mitchel, Ed.D., recalls that "as a doctoral student Angelica was smart, motivated, and hard working, but what stood out for me was her deep belief that she was going to make a difference in the lives of others."
Mitchel recalls his frequent conversations with Allen-McMillan while she was assistant superintendent in Irvington. "We had many conversations on how best to support her teachers and administrators in order to increase student achievement. She was committed to being a Servant Leader."
A Montclair resident and mother of three, Allen-McMillan began her 25-year education career as a teacher in Irvington, East Orange and Newark before taking on an leadership role as manager of a Newark's Marion P. Thomas Charter School. She went on to join the South Orange-Maplewood School District as assistant principal and then principal of Clinton and Marshall Schools, respectively.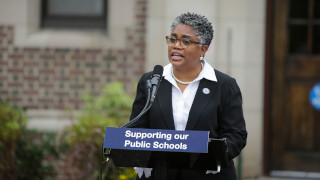 Angelica Allen-McMillan speaks at the event where Gov. Phil Murphy nominated her to be the Commissioner for the New Jersey Department of Education. Photo Credit: Edwin J. Torres, Governor's Office.
"Angelica has worked at all levels of education and knows exactly what our teachers and students need to succeed," Governor Murphy said in announcing Allen-McMillan's nomination. "She is an exemplary educator and I'm confident she is the leader we need to carry our school communities through the remainder of this pandemic and beyond."
"I am a proud product of New Jersey's magnificent public education system and I have dedicated my career to ensuring that the children of this state continue to get the type of education I received," said Allen-McMillan. "I am extremely proud the Governor has put his faith in me to continue New Jersey's tradition of educational excellence."
Since 2018, Allen-McMillan has served as Interim Executive County Superintendent for Morris County, where she supports and oversees school districts within the county on behalf of the Department of Education. From 2017 to 2018, she served as Assistant Superintendent for Secondary Education for the Newark Public Schools system. Prior to holding that position, she served as Assistant Superintendent for Curriculum & Instructions in the Irvington School District.
Allen-McMillan is a graduate of Cornell University, where she received a baccalaureate degree in Industrial and Labor Relations. She received a master's and a doctorate degree in Education, Leadership, Management, and Policy from Seton Hall University.
Categories: Alumni , Education , Nation and World