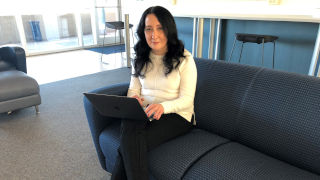 Lucrezia Tranchina, a mother of five, was inspired to return to school by Seton Hall's flexible, highly interactive online counseling program.
School counselors play an important role in ensuring students' success in school, at home and on their future paths. These dedicated master's level practitioners, help inspire and motivate students to stay on the right academic path and reach their full potential. Counselors collaborate with teachers and parents and may match students with whatever resources are needed. From the early grades through high school counselors are there for students, to listen, to intervene when help is needed, and to guide students' social and emotional development. High school students rely on counselors during their college search or as they prepare to join the workforce.
"Now more than ever, students need the support." says program alumna and current instructor Mary Kalazan, M.A., Ed.S., LPC.
Counseling draws people from a variety of professional and academic backgrounds, former teachers and recent graduates who might have studied psychology or social work. It also appeals to career changers who enjoy working with young people and are looking to make a difference. The field is perfect for those who prefer variety in their work routines, enjoy creative problem solving and interested in working both one on one with students and in group settings.
The job market for school counselors is strong right now with projected growth above eight percent for the next decade as school enrollment increases, according to measures by the Bureau of Labor Statistics.
Seton Hall's graduate programs in school counseling are accredited, nationally recognized and available on campus and online. The online, cohort-based programs offer both a master's and education specialist track for those who holding a master's degree in a related field. School Counseling at the University brings together a multicultural group of aspiring professionals from New Jersey, New York and many other states. The curriculum has a strong social justice focus and provides the foundational skills students need to become effective counselors. "Faculty are experienced education and counseling practitioners "who are dedicated to their students' success," explains program director Rosalie Maiorella, Ph.D.
While many graduate programs have pivoted to remote platforms during the pandemic, Seton Hall's online School Counseling program has been working in the virtual environment since it was established in the early 2000s. With a 12:1 student/faculty ratio the experience is very personalized.
The program provides a laboratory for exploring and experiencing the challenges, demands and rewards of the working in the field. "One of the things that truly sets Seton Hall apart," says academic director Jody Kulstadt, Ed.D., "we're not just training counselors, we're training people to be the best versions of themselves for outstanding work in the field.
Over the course of the two-year program, students come together on campus each summer for weekend residencies and take part in school-based internships.
For now, the full program is virtual. "The technology has been there to support a smooth transition so that everyone feels very connected." Maiorella explains. Students and faculty can still meet face to face and being remote has even had some surprise advantages. A number of new instructors and guest lectures who are based out of state have joined the program, giving students a chance to learn from a diverse group of practicing professionals.
New cohorts form twice each year. For more information about the program, visit our website or contact the graduate admissions director to learn more.
Categories: Arts and Culture , Education