Wednesday, October 14, 2020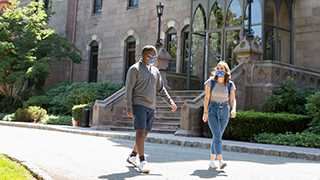 To help meet the needs of Catholic education, Seton Hall offers a graduate program focused on preparing educators to serve as administrators in Catholic schools. Based at the College of Education and Human Services, the program brings together dedicated teachers, principals, priests, religious and others currently working in the field, or who want a career in Catholic education.
"Our Catholic Schools are a gift to the communities in which they serve," says Elizabeth Franzella, Ed.D., who has been affiliated with the program for over a decade. "They are continuing the heritage of forming students in faith and service. They do this by creating schools of excellence, not only in teaching the faith but in all content areas. Our students become those administrators and embrace this mission, within the Catholic schools system."
The Catholic School Leadership (CSL) program is distinguished by a faculty of researchers and experienced educators. The program has evolved to offer a blended learning model comprised of both in-person and virtual courses. CSL students take part in classes that are part of the College's nationally recognized education leadership curriculum. Graduate candidates who are teaching at Catholic schools receive a 50 percent discount on tuition.
Over the course of the two-year program, students bring their own perspectives and reflect on scenarios, assignments and projects related to a Catholic school setting. The readings, materials and types of tasks, Professor Franzella explains, can be used in either the public or Catholic school sector.
Students are grouped into cohorts at the start of the program, creating the opportunity for a support network. Franzella, who currently teaches a course on supervision and instruction, adds that governance and funding in Catholic schools are different than they are in the public school system. The courses, she says, "allow students to delve into the uniqueness of their situations" and apply the lessons they are learning in those situations.

The CSL program also helps educators play a positive role in the lives of the families of their students. Maureen Gillette, Ph.D., Dean of the College of Education and Human Services, says that the influence of Catholic educators goes beyond the classroom. She believes that Catholic schools demonstrate "care for the concerns of parents," and sees the involvement of families and parishes as key factors in ensuring students meet their goals.
Program director Mary Ruzicka, Ph.D., explains that CSL reflects Seton Hall's mission of faith and values. She believes that when a person lives out faith-based beliefs and ethical values they can have a positive, long-term influence on teachers and students. "The Catholic School Leadership prepares students to be leaders in a global society by focusing on high quality academic and ethical development."
For information on the next CSL cohort, forming in January, 2021, please visit our website.
Categories: Education , Faith and Service