Wednesday, August 25, 2021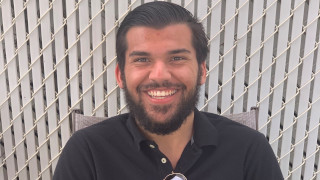 Philip Nasisi, a senior majoring in secondary education, is a researcher on the Ukrainian diaspora oral history project.
The best way to unpack history is often by listening to those who have lived it.
When he begins his teaching career next year, senior Philip Nasisi plans to pass along what he's learned from listening to recorded interviews with Nick Mykola, a Ukrainian immigrant who fled the Soviet Union. Nasisi is researching Mykola's story as part of an ongoing oral history project taking place at the College of Education and Human Services. "As a future educator," Nasisi says, "Nick's life story made me consider the role of culture in education. His first-hand account of his journey is an invaluable source of historical information."
The Ukrainian Diaspora oral history project is an outgrowth of a 13-year collaboration between the College's Secondary Education Program and the Borys Grinchencko Kyiv University. Under the leadership of Professor James Daly, the project was launched with funding from a digital humanities grant from Seton Hall. In addition to documenting first-hand historical accounts of the immigrant experience, the partnership hosts virtual seminars, and is developing an interactive web site to display research related to the history of Ukrainian immigrants to the U.S. Participants have also published a digital magazine series examining global topics related to education, science and social issues.
A Journey Rooted in Faith
There are currently more than one million Ukrainian Americans living in the United States -- over 73,000 have made New Jersey their home. The Ukrainian Diaspora project has enabled students, faculty and alumni researchers to document the Ukrainian immigrant experience through the lens of the community's deeply religious roots.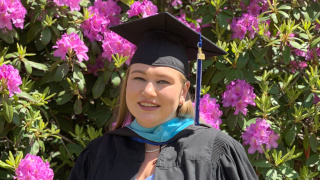 Her work on the oral history project has enabled 2018 graduate Ellen Bacon to stay connected with her alma mater.
The U.S. headquarters of the Ukrainian Orthodox Church, located in nearby South Bound Brook NJ, was a starting point for the project. Researchers from Seton Hall have met with UOC archivist, Michael Andrec, who led tours of St. Sophia's parish, its museum, and the archives of the Ukrainian History and Education Center. The oral history interviews were conducted at Holy Ascension Church in Maplewood, NJ.
The team also engaged with local UOC churches, documenting the experiences and life stories of clergy and parishioners. Interviews took place after Sunday services and were recorded, edited and made available through a new website. Kalliopi Logothetis, B.S. E. '19, who contributed to the oral history project, says that capturing the stories of community members from Holy Ascension parish, and hearing about their ancestors' experiences, had a tremendous impact. "As a history teacher," Logothetis explains, "these are the stories that I can bring to my students. Oral histories are an invaluable part of learning about a specific moment, culture, or phenomenon in history. Without those real-life stories, we miss out on the humanity of history."
The research team has created an interactive timeline on Ukrainian immigration, It has mapped the location of Ukrainian Orthodox Churches in New Jersey, and shared video and photographs from the headquarters of the Ukrainian Orthodox Church. Earlier this year, the group published a digital magazine 'Young Scientists Grinchenko – Seton International Journal, which encourages and supports students from universities in Europe and the U.S. as they research essential issues facing education, science, and the world.
Ellen Bacon, B.S.E. '18, got involved in the Ukrainian Diaspora oral history project during college and has continued to contribute as a Seton Hall alumna. "Working on this project as a student challenged my technical skills and interpersonal communication savvy," says Bacon. "It has been an honor to work on the project after graduating as it helps keep me connected to the Seton Hall community and revitalizes my vigor for history and learning."
Categories: Alumni , Arts and Culture , Education