Erin Luna continues to keep her pre-schoolers busy while everyone is learning from home.
When New Jersey Governor Phil Murphy announced that schools across the state would be closed due to the rapid spread of Covid-19, teachers and their students sprang into action online.
For senior Erin Luna, who teaches pre-school in West Orange, the change was something she was ready for thanks to the classes she already had in instructional technology. Using online platforms, including a virtual display board app called Padlet, along with YouTube, TedEd, and Zoom, Luna has continued teaching and interacting with her students every day since the stay at home order began.
She is building on many of the computer-based practices she employed in the classroom before the shelter at home order took effect. At school, Luna's students were learning Spanish, American Sign Language, art, music, creative writing and more. When her students moved to remote learning, the class brought those activities along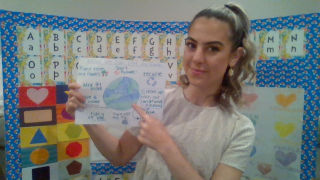 Tapping online resources and her own creativity to make learning fun for her class of 20 youngsters.
One of Luna's favorite resources for online collaboration has been the Padlet app, which she uses to create "a strong virtual learning experience for her students." Word about her success with Padlet caught on within the school's network and it is now being used in pre-schools as far away as Colorado. Luna also records lessons she posts on YouTube. She developed her own TedEd videos to supplement at-home activities for her students. Luna's class is keeping busy with crafts, science experiments, and activity sheets. She also gets together with her students individually and meets with her entire class for weekly Zoom meetings. While on Zoom, student share a special activity, like show-and-tell or an art project. Luna says the experience helps "shed some light during this difficult time." As a result of the covid-19 crisis, Luna's school has welcomed new students whose parents are first responders, medical doctors, and other professionals. "It's difficult not seeing my students each day; they are a family to me. I have a bond with every one of my students that I am trying to keep up with virtually."
"Erin is tapping into the skills she gained in her program, which emphasizes using technology in the classroom," explains Joseph Martinelli, director of Instructional Design and Technology program at the College of Education and Human Services. "She has been a joy to have in the classroom, and seeing her integrate the tech skills taught in the course into her own classroom has been most rewarding, especially as we all made the transition from in person to online teaching."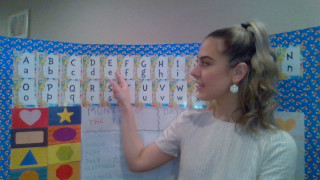 She is building on many of the computer-based practices she employed in the classroom before the shelter at home order.
A resident of Woodland Park, New Jersey, Luna earned her associate's degree from Bergen County Community College and is pursuing her elementary teaching certification at Seton Hall. She'll graduate in May with her bachelor's degree in Social and Behavioral Science and has already begun working toward her master's degree in Special Education and Certificate of Eligibility of Advanced Standing (CEAS).
Right now, Luna's scheduled is packed. "It has been difficult to say the least, but worth every second," she says. And while hosting class meetings on Zoom was not something she ever imagined doing, Luna says learning for both her and her students, has continued uninterrupted. "I believe my professors have done an amazing job accommodating all of their students. This experience has not altered my passion for teaching, but instead has enhanced it by giving me a challenge so early in my career."
Categories: Education