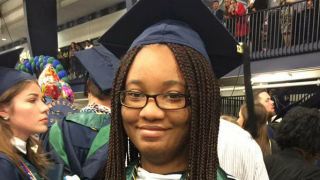 Kristina Simmonds, current online School Counseling graduate, was awarded the American Psychology Association's Interdisciplinary Minority Fellowship.
This summer, Counseling and School Counseling Master's student, Kristina Simmonds, was awarded theAmerican Psychology Association's (APA) Interdisciplinary Minority Fellowship (IMFP). Simmonds is the second Seton Hall graduate student to receive this fellowship.
Simmonds will receive up to $12,000 stipend for one year, with the possibility of renewing the fellowship for up to one additional year. In addition to stipend support, Simmonds will participate in training, professional development, mentoring and lifetime access to a network of alumni fellows. "Being a recipient of this prestigious fellowship means I will have the opportunity to collaborate with a group of scholars to create a project that will benefit the community," said Simmonds. The funding, said Simmonds, will help her pay for school and allow her more time to pursue a career in mental health and behavioral health.
Simmonds is currently in her first year in the online School Counseling graduate program while working as a crisis counselor with the Mental Health Association of New York City, Inc. Upon completing her master's degree, she plans to continue her studies in the Ed.S. program in Professional Counseling. "While I knew that I wanted to work in the education field, I also knew that I wanted a career in the mental health field. I've been a volunteer with Crisis Text Line since I was an undergraduate student, and it's a combination of my role as a school teacher and crisis counselor that led me to the mental health and school counseling field," said Simmonds.
The M.A. in School Counseling program is housed in the Professional Psychology & Family Therapy department within the College of Education and Human Services. The program prepares school counselors to maximize the potential of all students. The interim dean of the college, Dr. Martinelli has been a long-time supporter of the program. The program directors, Drs. Maiorella and Kulstad, see the needs of the students to develop skills and competencies to work as effective consultants, collaborators, advocates, and leaders in our ever-changing global society. "This program has taught me so much about myself and others," said Simmonds. "I've learned how we communicate our needs to one another, and how to support people through that self-discovery process that leads to healing. This program has given me the tools I need to excel in my role as a crisis counselor."
Utilizing her experience at Seton Hall and the Fellowship's professional development, Simmonds will pursue her goal of working in educational settings and by opening her own private practice to provide mental health therapy to clients in marginalized populations.
About the Interdisciplinary Minority Fellowship Program
The APA IMFP is an innovative, comprehensive and coordinated training, mentoring and career development program that enhances psychological and behavioral outcomes of ethnic minority communities. IMFP is committed to increasing the number of ethnic minority professionals in the field and advancing our understanding of the life experiences of ethnic minority communities.
The IMFP is awarded through a federal grant to APA from the Substance Abuse and Mental Health Services Administration (SAMHSA), Department of Health and Human Services. It is uniquely tailored to provide Fellows with support and training beyond what is offered by most fellowship programs and other institutions.
Selected Fellows exhibit the perseverance and dedication to overcome hardships and provide the necessary work that addresses the behavioral health needs of racial and ethnic minority populations. The purpose of the fellowship is to identify, select, and support the training of ethnic minority graduate students who commit to significantly improving the quality of care provided to ethnic and racial minorities who have a mental or cooccurring mental and substance use disorder. To this end, the IMFP provides financial support, professional development activities, and opportunities for professional and personal guidance.
The fellowship is directly related to efforts to reduce health disparities among ethnic minorities in the U.S. by filling a crucial need for mental health professionals in psychology, nursing, social work, marriage and family therapy, mental health counseling, and substance use and addictions counseling.
Categories: Education