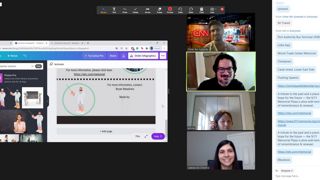 MultiLingual MultiMedia Club Attendees.
International students in the campus ESL@SetonHall program are meeting Friday mornings this semester for the MultiLingual MultiMedia Club (MLMMC). The purpose of the club is to form an online space for all Seton Hall students to extend their multilingual abilities while tackling new multimedia digital apps. One benefit of the space is the community-building that comes from the student interaction. Each week, attendees to the club gather around multimedia projects of shared interest. They break into small groups to develop digital products such as infographics, podcasts, and videos among other projects. Attendees are encouraged to share their completed projects with the wider public. All students on campus are invited to attend as their own schedule allows.
Dr. Bryan Meadows, ESL@SetonHall program director, notes that the club is a unique way to bring students together across cultural and linguistic boundaries. Digital media is something that most undergraduates use on a daily basis regardless of language background. So, digital media projects become a platform for students to communicate with one another and to create things together that are important to them. The added advantage of having an online digital space is that undergraduates from outside the United States are able to attend club meetings. Dr. Meadows notes that he has extended club invitations to student groups in Colombia, Iraq, Mexico, and Japan through his professional networks.
International student Omer Bin Someda has this to say about the club meetings: "In MultiLingual MultiMedia Club, I'm not only meeting my classmates and practicing English, I'm developing new skills. For example, I have learned how to do infographics". Mr. Bin Someda will be joining our campus MPA graduate program this summer semester.
The MultiLingual MultiMedia Club is one initiative that contributes directly to the university commitment to inclusion by bringing diverse groups of students together for mutual exchange and dialogue. As an ESL@SetonHall program initiative, the MLMMC adds to the campus experience for international students.
Students and faculty interested in attending the MultiLingual MultiMedia Club can contact Dr. Bryan Meadows at bryan.meadows@shu.edu. All are welcome.
The ESL@Seton Hall program serves students from all over the world, providing coursework for future success in English academic language environments. The coursework design works best for individuals with at least an intermediate level of proficiency in English. More information about the ESL@Seton Hall program is available here ».
Categories: Arts and Culture , Education