Wednesday, November 2, 2022
For more than a quarter century, Seton Hall University has offered qualified law enforcement officers, criminal justice professionals, government employees at the federal, state, county, and municipal levels and members of the Armed Services the opportunity to earn a Master of Arts degree in Police Graduate Studies. It is with great pleasure, the College of Education and Human Services announces the newly reconstructed Law Enforcement Executive Leadership Graduate program which strives to provide rigorous and progressive instruction for our future leaders in law enforcement. 
After diligent research and analysis, including literature reviews, interviews and data collection, the department redesigned the program, originally Police Graduate Studies, to elevate the curriculum to meet the needs and competencies for leaders within all law enforcement sectors. 
The new curriculum will include nuanced, complex work that will emphasize leadership among future and current law enforcement practitioners who wish to move up into an executive leadership role. Moreover, the curriculum enables students to acquire the necessary skills and tools to analyze complex public sector challenges, including releasing public statements, crisis management, internal affairs, police reformation, and managing the day-to-day operations of public agencies.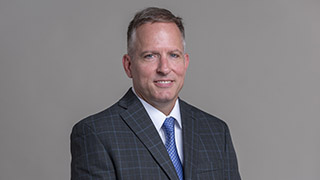 A photo of Thomas Shea, D.Sc., Program Director of the Law Enforcement Executive Leadership Graduate Program
"We see the value of theory, and we also see the value of practice. We've designed these courses utilizing evidence-based research and involved people who have expertise in law enforcement.," explains Thomas Shea, Program Director of the Law Enforcement Executive Leadership Graduate Program. "When you walk out of this program, you walk away with crucial, professional competencies to be a knowledgeable facilitator. Law enforcement leaders are facilitators and that's the overarching theme of this degree."
In the program remodeling, an external advisory board staffed with experienced law enforcement personnel was formed to focus on fulfilling the program's mission to "strengthen the bonds between the program and alumni, federal and state law enforcement, other public safety organizations, government, and private sector partners. Its purpose is to help the Program Director and the College of Education and Human Services build upon the quality of the program and develop it into one that is innovative in meeting the contemporary needs of both public safety agencies and the public they serve."
The overall goal of the program is to structure a humanistic approach within law enforcement leadership, build confident facilitators in public communication, improve and implement crisis management techniques, and promote positive and progressive police reformation. This program strives to contribute to law enforcement's new direction and positive transition, with emphasis on modernization and adaptation in today's world.
Seton Hall prides itself in its wealth of talent, which includes knowledgeable faculty who are experts in their fields, with unmet passion for their work and guiding their students to a successful career. The program's adjunct professors and faculty, all who obtained doctoral degrees, have served meaningful and monumental roles in law enforcement. Students will learn alongside passionate and experienced leaders while feeling involved in an interconnected curriculum between hypothetical and real-world applications. Our faculty can prepare their students with realistic views of the profession to set up each student for success, in addition to providing steps to guide them in the right direction in law enforcement. 
What makes this program different from other law enforcement leadership programs are the three tracks students may take after they complete six core classes: Emergency Management and Homeland Security, Scientist-Practitioner, and Professional. Students have the option to choose one track within these three specialties or enroll into various courses within each track to diversify their portfolio. This is a great opportunity for law enforcement professionals to learn more about each specialty with the support of faculty who can guide them throughout their studies.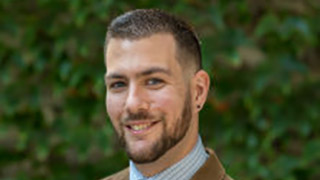 A photo of Manuel Gonzalez, Ph.D., Assistant Professor of the Law Enforcement Executive Leadership Graduate Program
"This program is meant for developing leadership competencies needed in policing agencies," said Manuel Gonzalez, Assistant Professor of the Law Enforcement Executive Leadership Graduate Program. "The specialized tracks in this program are focused on core skills that law enforcement leaders should have in their designated fields."
With working professionals in mind, this program offers full-time law enforcement professionals the chance to learn on their own time, at their own pace. Perfect for the work and study balance, the Law Enforcement Executive Leadership Graduate Program is completely virtual and can be taken synchronously or asynchronously. Convenient and flexible for working professionals, especially in law enforcement, students can choose to meet with the instructor and other classmates virtually each week or take advantage of the asynchronous online coursework during their off hours. The hybrid courses accommodate working law-enforcement officers with unforeseen events at work and rotating schedules, allowing many more officers the opportunity to attain their degrees. 
Law enforcement professionals accepted into this program receive a 50% discount off the graduate tuition rate. Additionally, the University offers graduate scholarship opportunities, including the Dr. Stephen and Beverly Hoptay Fellowship for New Jersey State Troopers. Public service employees may be eligible for federal student loan forgiveness programs.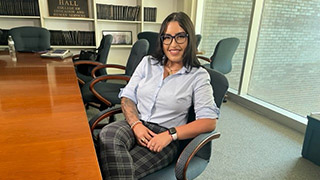 A photo of Natalya Martinez, a recent graduate of the preceding Police Studies program and current Seton Hall Graduate Assistant
This program is not just for police officers, however. It's a great steppingstone for those who are starting their career in law enforcement and for those who wish to become advocates for law enforcement personnel. Natalya Martinez, a recent graduate of the preceding Police Studies program and current Seton Hall Graduate Assistant, was one of few students who were not a law enforcement professional but gained influential knowledge and experience alongside those students who were. Her desired career goal is to work in industrial-organizational psychology where she hopes to serve as an advocate for police agencies and law enforcement personnel; all of which was ignited through taking this program. "Seton Hall was the right choice, looking back now I wouldn't have chosen any other place to get my Master's. One decision alters everything in life, that was my decision in choosing Seton Hall and this program," said Martinez. 
Martinez, Gonzalez, and Shea are co-investigators on a grant-funded research project that explores the impact of police suicide on police agencies and personnel and the psychological effects it has on organizations.
Undergraduate students who are pursuing criminal justice are encouraged to take classes in this graduate program as electives to learn more about the different specialties, a bonus to their current undergraduate coursework. With the ability to network with law enforcement personnel who serve as professors and students enrolled in the class, undergraduates will be able to jump start their career as soon as they graduate, with a better understanding of which track they wish to pursue. 
About Thomas Shea, D.Sc.
Program Director – Law Enforcement Executive Leadership Program
College of Education and Human Services
Thomas Shea entered academia after retiring from the Long Branch, NJ Police Department in 2017 following twenty years of service. During his police career, he received numerous commendations, commanded four operational units, and served as an Assistant and Adjunct Professor for three separate universities. He is the author of numerous policing articles, and his first book is scheduled for nationwide release in the Summer of 2020. He also serves as the Director of Security for the South-Orange-Maplewood School District and co-owns four expert consulting businesses. His current research interests include police-community relations, police ethics, police leadership, and K-12 school security. He received his B.S. from Rutgers University, his MPA from Seton Hall and his D.Sc. from New Jersey City University. Lastly, Dr. Shea is a United States Marine Corps veteran of Operation Desert Shield/Storm.