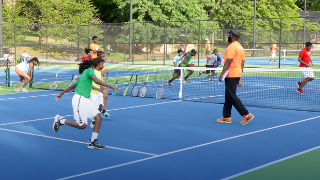 Seton Hall education students paired up with the Greater Newark Tennis Education program for their summer tennis camp
With summer underway, the Greater Newark Tennis and Education (GNTE) and Seton Hall University (SHU) welcomed young tennis players for another year with the summer tennis program. Players participate in this free program where kids can play and learn through a robust educational program in tandem with engaging tennis instruction.
Students from the College of Education and Human Services (CEHS) at Seton Hall University had the opportunity to practice their teaching skills at this year's tennis camp. Associate Dean Omayra Arocho currently directs the CEHS' partnership with GNTE and recruits SHU education majors to serve as instructors for the summer academic program. She's a proud Newark native who grew up playing in Branch Brook Park and believes in GNTE's approach to whole child development, "The focus on our strength as a community and the importance placed on keeping the mind and body active serves as a wonderful example for our education students. I'm excited that they have this additional opportunity to share their talents, learn from their students and sharpen their skills as teacher leaders." 

Four nights each week, education students Shamika Augustin, Eliana Driesse, Robin Towey and Chelsea Alves make their way to the Althea Gibson Tennis Center at Branch Brook Park in Newark where they head up the education portion of the GNTE's summer program as instructors.
Seton Hall students Eliana Driesse, Chelsea Alves, Robin Towey and Shamika Augustin alongside Curriculum Coordinator Jesse C. Merise and Associate Dean Omayra Arocho were eager to meet their students this summer
On a recent afternoon, they were eager to meet their students and get to work promoting educational and self-development that will create life-long meaningful connections. Shamika, who's a veteran instructor for the program, was assigned to work with 7–10 year-olds again this year. "I decided to join as an academic program instructor for GNTE last year to gain more experience managing a class size of students," said Shamika Augustin. "The program gave me an opportunity to design lesson plans, teach and manage a class of various ages, and most importantly, taught me how to be flexible with the ever-changing landscape of teaching."
Coach Bob Bynum, and Director of Tennis at GNTE who has over 40 years of coaching experience, recalled that only five youngsters showed up for the first session when the camp started in 2019. The program has seen its registration grow to over 130 participants. On any given evening, 50-55 kids learn of tennis and pick up life skills for two hours Monday through Thursday.
Before an hour of tennis instruction, campers participate in a short lesson in anything from history, to working on resilience and developing emotional intelligence. With the support of Seton Hall students and staff volunteering their time, young campers are encouraged to explore concepts such as emotional intelligence and communication.
"Having this diverse curriculum has inspired me so much as an education student," said Chelsea Alves I've seen how interactive lessons can be and how you can always incorporate elements of emotional intelligence and social responsibility into academics. I've also learned to think quickly on my feet and adjust to the environment at hand." The overall goal of the program is to nurture the physical, social, emotional, and academic health of each of the student participants. GNTE provides tennis and fitness instruction, academic support, life skills training, and in the future, college counseling.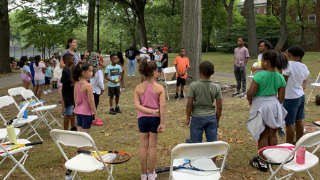 Education students gained experience teaching their students in a non-conventional environment with an emphasis on a cognitive-behavioral curriculum
Since the program began, the game-based and cognitive-behavioral curriculum focused on social emotional learning. Overall, the program was designed to "provide students with appropriate coping skills, teaching them to navigate social interactions through an interactive format" while also teaching them skills and resiliency, according to GNTE's website. "We want to give kids the idea that there is a bigger world beyond than what they may know,'' said Charles McKenna, Executive Director of GNTE.
This year's lessons plan includes expanding social skills and cognitive abilities pertaining to communication and emotional intelligence, while providing historical components that focused on the history and accomplishments of legendary tennis players and the importance of teamwork. "It has been a pleasure being the Greater Newark Tennis Education Summer Instructor Supervisor and the Curriculum Coordinator for the CEHS students throughout the summer," said Jesse C. Merise. "Like any school environment - no two days are the same. Therefore, this experience has improved my ability to adapt to any unforeseen circumstances that may arise."
Using activities, games/sports, arts and crafts, and engaged discussions, the academic instructors teach children about many topics such as communication, team building, sustainability, important figures in their lives (parents/guardians, teachers, etc.), animals and plants, and many more. Several curriculum activities such as journaling, emotional charades, group tasks, and listening games are geared towards improving and expanding the social skills and cognitive abilities, pertaining to communication and emotional intelligence, for each child.
"My hopes and outcomes of this program are for campers to walk away knowing how to better cope, process, and communicate not only their feelings, but to also understand and empathize with those they interact with daily (e.g., peers, siblings, elders)," said Merise. Seton Hall's enthusiastic camp instructors serve as positive role models while providing campers with the best camp experience possible and ensure the well-being and safety of each child.
"I start off my lessons by checking in on students and having them share different facts about themselves. They have begun suggesting their own questions to start our lessons," Shamika Augustin shares. "My students are key contributors to the structure of lessons as much as I am. These lessons create a space for team building and learning new information in a less stringent environment."
Bob Bynum, retired tennis player and Director of GNTE, puts his 40 years of experience coaching and playing tennis to teach young community members about resiliency on and off the court
Retired tennis professional and Director of Tennis for GNTE, Bob Bynum puts his 40 years of experience coaching and playing tennis to use as a tool for not just athletic improvement, but the overall development of the young people in his charge. "For me, tennis made all the difference. But not just on the court. It instilled a discipline and preparedness in me that had a great impact on my education, my sense of community and even my sense of opportunity in the world at large." Now, Bynum uses his tennis expertise to inspire a love for the game and all it can bring to Newark's young leaders.
"The College of Education and Human Services here at Seton Hall does a great job giving education students hands-on experience in the classroom beginning as early as their sophomore year," Augustin explains. "Many other schools start placements Junior or Senior year; however, here at Seton Hall University, heading into my senior clinical practices, I have had three placements in a variety of settings including in urban, suburban, and Special Education. As I approach my last year here at Seton Hall, I feel even more prepared to teach my own class in the near future."
The summer tennis program runs through August 18. If you would like to register for this program, visit https://greaternewarktennis.org/events/.
About the Greater Newark Tennis and Education (GNTE)
GNTE provides a foundation for a lifelong love of tennis while creating a social community and fostering better health. For some, it will be a pathway to team participation and competitive sports. For our most dedicated and talented players, we hope GNTE will create opportunities for high school varsity letters and, perhaps, college scholarships. Most importantly, GNTE puts all kids on a path towards greater educational opportunity and inspires them to reach higher and excel.
Categories: Education