The annual Many Are One Gala took place on June 9 to honor alumni of Seton Hall University who exemplify the mission of servant leadership through their personal and professional accomplishments. It is the only event where all who are "true blue" gather together to celebrate the University's 160-year legacy of positively influencing the world in which we live.
The College of Education and Human Services was proud to honor two women who have demonstrated superior leadership and growth in their respective professions. Their work over time has made an impact on the many whom they have served, changing lives for the better and leaving a lasting legacy for all to follow.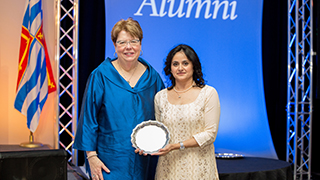 Arti Dhaon Kakkar received her M.A. in Psychological Studies in 2004, going on to earn an Ed.S. in Marriage and Family Therapy in 2005. She is this year's recipient of the 2017 Humanitarian Award for her service in the Greater Newark New Jersey area.
As chief of health and human services at New Community Corporation (NCC), Arti Dhaon Kakkar has played a significant role in the growth of one of the nation's largest not-for-profit community development corporations. Her clinical work as a licensed marriage and family therapist has directly benefited people who receive substance abuse counseling, family and marriage therapy and crisis prevention services through the Family Service Bureau, an NCC affiliate dedicated to some of the most severely underserved populations in Newark.
Upon assuming the role of Executive Director in 2010, she greatly increased the number of state grants and private contracts, which allowed for the ability to provide more comprehensive services and expand outreach to families. "Under her leadership, the agency is an increasingly positive presence in the lives of families in Newark," states Ben Beitin, Associate Professor & Program Director for the Marriage and Family Counseling Programs.
Kakkar is also active in affairs of the University and her former graduate program. In addition to having taught as an adjunct professor in the marriage and family therapy programs, her agency has acted as a training site for students to complete their clinical hour requirement. Beitin states, "The agency has one of the largest number of Seton Hall marriage and family therapy students. The program requires supervisors with specific credentials and has been challenged at times to secure appropriate training sites.
A state juvenile justice grant secured by Kakkar provides prevention services to adolescents through an annual collaboration with program faculty to run the Celebration of Womanhood conference on the Seton Hall campus. This conference brings two hundred girls on campus to build leadership skills and confidence that will influence their future goals.
The professional community has recognized her contributions by electing her President of the American Association of Marriage and Family Therapy New Jersey chapter.
On receiving the Humanitarian Award, Kakkar stated, "It is very humbling to know that your work is being recognized and valued. Service to others is an essential part of life and to get to do that makes me feel privileged and blessed. The fact that this award might lead to collaborations with NCC and SHU programs to strengthen both and to provide a holistic education and practice to the students is my goal, and hopefully I will be able to achieve it with everyone's support."
Kakkar was also quick to acknowledge that her training in the Marriage & Family Therapy program was intrinsic to preparing her for the many challenges of her profession, stating, "The SHU Marriage & Family Therapy program is intense and prepares for the real field before you join the workforce. The training at the internship sites and the education and guidance of the faculty makes the program stand apart from other similar programs. Hands on supervision, which is a requirement as well as faculty support really helped me in learning more than I had bargained for. It helped me in securing my job and skills that I can widely apply to diverse populations."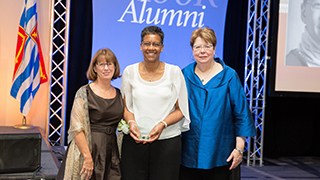 Bette Simmons earned her doctorate in Higher Education from Seton Hall University in 1997. She was chosen by Dean Maureen Gillette as the recipient of the award given by each school and college for service and dedication.
Simmons is currently Vice President of Student Development and Enrollment Management at County College of Morris (CCM). During her thirty-seven years in the field of higher education, she has held many positions at CCM - as a counselor, assistant to the president, affirmative action officer, assistant dean of student development, dean of student development, and her current role, which she assumed in 2005. She was the first female administrator to sit on the president's cabinet.
In 2011, The National Association of Student Personnel Administrators in Higher Education (NASPA) named Simmons a Pillar of the Profession. She was one of 11 individuals in the country to receive this prestigious award presented by NASPA "to honor professionals who have distinguished themselves as leaders, teachers and scholars in student affairs and higher education."
According to Karen Pennington, a close colleague and former NASPA President, "Dr. Simmons is an excellent example of what it means to be a dedicated professional. She has made a long-standing commitment to the needs of students in the community college and has helped to provide many students with the tools needed to transfer and complete the bachelor's degree."
Among her extensive list of awards and honors, Simmons has received: the 2014 Community College Spirit Award from the New Jersey Council of County Colleges (NJCCC) awarded "to those who embody the community college spirit – perseverance, dedication and excellence," the 2011 Patricia C. Donohue Leadership Award for "her distinguished leadership in helping to improve the lives of citizens in Morris County," the 2010 Morristown Neighborhood House Distinguished Volunteer Award, the 2009 Morris County Phenomenal Woman of the Year, and the 2007 NASPA Latino/a Knowledge Community Award for outstanding support and encouragement of Latinos in higher education.
Simmons is also a very active member in the Morris County community where her involvement includes: the Morris County Human Relations Commission, Calvary Baptist Church Community Development Corporation, the Morristown Juvenile Conference Committee, Community Hope, Inc., and the Morris County Sexual Assault Advisory Board.
Since earning her doctoral degree in Higher Education Administration at Seton Hall, Simmons has returned to campus as a guest lecturer for the Board Leadership Institute, a certificate program training corporate leaders to serve on nonprofit boards. She has also taught graduate-level courses for the master's program in Supervision, Leadership and Administration.
Further information on marriage and family therapy as well as other programs in counseling and psychology may be found here »
Further information on higher education as well as other programs in educational leadership may be found here »
Categories: Education