James Lopez has brought what he learned in Hip-Hop Ed into his own classroom at North Brunswick High School.
Urban Education Through the Context of Hip-Hop, otherwise known as Hip-Hop Ed, is an elective offered by the College of Education and Human Services. The course was created by Professor Edmund Adjapong, Ph.D., chair of the secondary education program, part of the Department of Education Studies.
Adjapong created the course back in 2018 when it was only offered to education students. In 2019, it became crossed referenced with Africana Studies as well.
"Hip-hop has always been an important part of my life," says Adjapong. "I realize that many people have their own personal relationship with hip hop, so I created a class where students can explore and make sense of their relationship with hip-hop while interrogating urban education".
The class show students how hip hop can be integrated into the classroom and the greater community. To be able to use hip hop music and cultural effectively with students, it's key to have an understanding of the genre. And that's how the class starts.
The first weeks of the semester are dedicated to how hip-hop started and where it is today. Another big part of the class is hip hop's role in social justice. Hip-hop is tied to social justice movements and many songs are rallying calls for people to rise up and respond. These songs talk about the reality of African American life and the hardships many people face on a daily basis.
The class then turns to using hip hop as a tool to enhance the classroom experience. Hip-hop, students learn, plays a big role in culturally responsive pedagogy and in the cultural experiences of many young people, especially those in urban schools. Incorporating music and poetry into the curriculum goes a long way to reaching and inspiring students.
Asked what he hopes students get out of the class, Adjapong says, "My goal is for students to recognize hip-hop as an inclusive culture that began as a social justice movement to uplift historically marginalized communities. Further, hip-hop can be a conduit to understanding the lives and experiences of historically marginalized communities".
The students who take Adjapong's class embrace the approach and use it in their own practice. The first opportunity to apply what they've learned is in their clinical experience. Students are able to use it in lessons as they begin to craft their teaching style.
Alumni who have taken the class also use hip-hop to help give students lessons that are highly engaged in.
James Lopez, B.S. '20, teaches English at North Brunswick High School. Lopez says he never thought he was going to become a teacher and did not declare his education major until his sophomore year. Taking Adjapong's class helped him realize his passion for teaching. Adjapong provided Lopez with the creative freedom to use hip-hop in the way he thought was best. Lopez said it was "through trial and error that I was able to figure out who I was as an educator and authentically incorporate hip-hop music and culture into my classroom".
In the classroom, Lopez says he uses what he learned in Adjapong's class as part of his regular teaching practice. Applying culturally response pedagogy that relates to his students' lives has helped him connect with students in ways that teachers often struggle to achieve.
One way Lopez brings hip-hop into his lesson recently was to have students read Langston Hughes' 'Note on Commercial Theater', a poem about cultural appropriation in Black theater and music during the time of the Harlem Renaissance. They compare the poem to a J. Cole verse from his 2014 song 'Fire Squad' which talks about the cultural appropriation he sees in hip-hop music".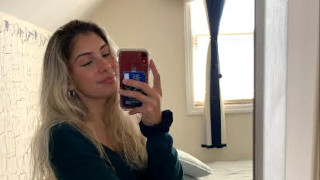 Sophomore Camila Camacho-Tenreiro studied with Professor Adjapong last semester and says the class was one of her favorites so far.
Current Seton Hall undergraduates also view their experience taking Hip Hop Ed in a positive light. Camila Camacho-Tenreiro, a sophomore secondary education and mathematics major, is one of those students. Camacho-Tenreiro, who was in Adjapong's popular class last fall, says it was one of her favorite classes at Seton Hall. "I enjoyed the relaxing nature of the class, while also learning a lot about a culture I never delved into that deeply. It influenced me to be more considerate, and to create lessons built off of inclusion first and foremost".
Hip Hop Ed is a must-take class and continues to grow and transform under Adjapong's leadership and inspiration.
Categories: Arts and Culture , Education