Professor Katie Smith's research includes studying why and how college students choose certain academic paths.
Katie Smith, Ph.D., assistant professor of higher education in the Department of Education Leadership, Management and Policy was the recipient of the 2022 Schreitmueller Faculty Servant Leader Award. The award is presented each year by the College of Education and Human Services to a member of its faculty who demonstrates outstanding service through teaching, mentoring and leadership. Smith was honored at the College's alumni reception, which took place on April 21 at McLoone's Boathouse in West Orange, New Jersey.
In his remarks to an audience of alumni, students and staff, CEHS Interim Dean, Joseph Martinelli, Ed.D., heralded Professor Smith's success at managing an active research agenda while also finding time to mentor and support her students. "Dr. Smith's work serves to center the voices of students and empower those who want to further contribute to higher education as active agents of change," Martinelli said.
Professor Smith's research focuses primarily on college student experiences and career development, especially the financial, social, and environmental influences on students' career exploration, opportunities, and post-graduate outcomes. As she explained: "I spend time almost every day trying to understand why and how we chose our paths. How and why, we decided to go to college. How we chose what to study and what jobs we entered."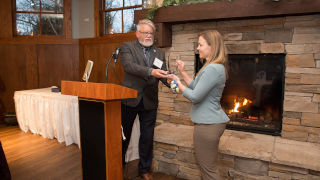 Professor Smith accepts the Schreitmueller Faculty Servant Leader Award from Interim Dean Joseph Martinelli, Ed.D.
Recognized by the Office of the Provost as the College's Teacher of the Year for 2022, Smith sees her work as an opportunity to make a difference wherever she can. She entered the field of education, she said, "to do good, to help others, to create better and more equitable systems."
Last fall, Professor Smith received a highly competitive $50,000 grant from the Spencer Foundation to support her research on undergraduate women's experiences in computer science internships. She has also published journal articles and a book chapter co-authored with Seton Hall doctoral students. She presents regularly at local and national conferences for education researchers and practitioners, often in collaboration with her graduate students. Prior to joining Seton Hall in 2020, Professor Smith worked in career services at Elon University and at Duke University.
In her acceptance speech, Smith asked the audience to take care of themselves, in order to do good for others. "Sometimes, the difference you make is taking care of yourself, especially in a global health pandemic and at a time of great social turmoil where safety and social justice are at the forefront of our minds. We need our educators and community leaders to be healthy. If we all take care of ourselves, and we all look after our communities, striving to make a little difference every day, it adds up. It's why we do what we do."
Professor Smith thanked her colleagues for their recognition and support and urged the audience to look for opportunities to express gratitude. In career development, she said, "recognition is one way to promote a person's belief in themselves, which helps inspire career interest and retention. Retention is badly needed in education these days, and in many other human services fields. So, thank your peers and your colleagues. Recognize them. Celebrate them."
Categories: Education