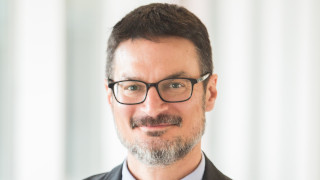 Bryan Meadows, Ph.D., EDST Faculty.
Educational Studies Assistant Professor, Bryan Meadows, Ph.D., gave a series of invited lectures recently to faculty and students at the Ibn Rushd College of Education at the University of Baghdad, Iraq. Dr. Meadows connected remotely with faculty members and graduate students associated with the Masters in TESOL program on three occasions. The lectures were held at 1pm New Jersey time and 9pm Baghdad time due to the 8-hour time difference. The lecture topics were:
(a) Nationalism and Culture Teaching (Dec 17);
(b) Applied Linguistics and Discourse Analysis (Dec 19); and
(c) Digital Technologies for English Language Teaching (Dec 23).
For each of the invited lectures, Dr. Meadows provided a general overview of the selected topic drawing on the findings of his published research and his own experience as classroom teacher and teacher educator. The overviews were each followed by active discussions between Dr. Meadows and the audience of students and faculty. On two occasions, the online discussion extended for one hour past the scheduled timeframe. In particular, the University of Baghdad graduate students appreciated the opportunity to discuss their masters thesis projects and to receive feedback from Dr. Meadows. In closing, both Dr. Meadows and the hosting faculty of the Ibn Rushd College of Education spoke optimistically about using these initial conversations as catalyst for expanded collaboration in coming semesters.
EDST faculty participation in international venues contributes to the department's engagement in global discourses of teaching and scholarship. To learn more about the Ibn Rushd College of Education at the University of Baghdad, please visit their homepage here. To see University of Baghdad documentation of the virtual exchange, see this page. (Both webpages are in Arabic.)
Dr. Meadows, EDST assistant professor, serves as director of the TESOL teacher education program and the ESL@Seton Hall Intensive English Program. He also leads a short-term study abroad class to Tokyo which affords Seton Hall undergraduates opportunities to visit Tokyo schools firsthand.
Categories: Education