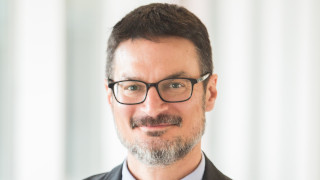 Dr. Bryan Meadows (EDST Assistant Professor) recently co-authored a book chapter with fellow educators in Oman. The contribution, "TESOL Teacher Education Programs and Transnational Perspectives: Critical Reconstruction of Experiences Via Duoethnography and Autoethnography," appears in the edited volume, "Mobility of Knowledge, Practice and Pedagogy in TESOL Teacher Education" (Palgrave Macmillan). The term "TESOL" refers to the Teaching of English to Speakers of Other Languages.
For the book chapter, Dr. Meadows and his co-authors, Prof. Salim Almashani (University of Technology and Applied Sciences, Oman and Prof. Mahmood Alhosni (Global College of Engineering and Technology, Oman, utilized the reflective practices of duoethnography and autoethnography to critically examine their shared experience with a TESOL teacher education program in New Jersey. Prof. Almashani and Prof. Alhosni completed a TESOL program under the direction of Dr. Meadows at his former university affiliation.
In the chapter, the three authors discuss how the TESOL teacher education program they participated in comprised a transnational space. That is, international students on one side and local students/faculty on the other exchanged perspectives and concepts related to language teaching in a setting of mutual respect and appreciation. The transnational connections established in the teacher education program remained with the participants as they moved into new professional spaces in different parts of the world.
The three authors close the chapter with recommendations for similar TESOL teacher education programs that serve both local and international graduate students. These include the following: (a) Provide opportunities for international TESOL students to complete part of their fieldwork placements in their home setting; (b) Include a wider range of course readings that address language teaching settings in varied spaces globally and in varied languages; and (c) Capitalize on transnational dialogue in/outside of the classroom (i.e., Aim for a TESOL community that is global first and local second). 
Seton Hall University's TESOL Teacher Certification Program
The TESOL Teacher Certification Program at Seton Hall University provides individuals with the knowledge, skills, and dispositions to serve English Language (EL) students in K-12 academic settings. The program consists of 15 semester credits offered in a remote-learning format for maximum convenience. The program sequence is an ideal pathway for practicing teachers to an additional instructional certificate.
Categories: Arts and Culture , Education