Wednesday, October 7, 2020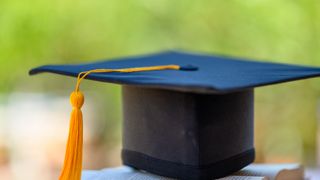 The English as a Second Language (ESL@Seton Hall) program hosted a free webinar on September 30, 2020 for international students on campus. The title of the online meeting was "Is Graduate School Calling You?" The online meeting provided information to international students about the transition from undergraduate/ESL courses to graduate courses, as well as general information about masters and doctoral degrees. The one-hour webinar was attended by international students in undergraduate and ESL programs at Seton Hall. The meeting was led by Dr. Bryan Meadows (ESL@Seton Hall program director) and by Pfr. Marsha Philemon (ESL@Seton Hall faculty).

In the first part, Pfr. Philemon explained the general characteristics of graduate school in the United States. Then, she described the differences between masters and doctorate programs. Lastly, she discussed the general admission requirements for graduate schools in the US.. During the second part, Dr Meadows introduced the audience to the different graduate programs available at Seton Hall and provided contact information for program representatives at the college level. Finally, during the last part, Pfr. Philemon offered much advice on how to choose the right graduate program. She also explained options available to international students for financing a graduate program in the United States.For international students, scholarships were highly recommended. A Q&A session was held at the end of the seminar, and then international students in the audience spoke a little about their university experiences in the US.
The webinar materials are available from Dr Bryan Meadows at bryan.meadows@shu.edu.

For more information about graduate programs at Seton Hall, click here.
The ESL@Seton Hall program serves students from all over the world, providing coursework for success in English academic language environments. The coursework design works best for individuals with at least an intermediate level of proficiency in English language varieties. Program participants are at the undergraduate, graduate, and professional levels. More information about the ESL@Seton Hall program is available here.
Categories: Education , Nation and World