Wednesday, September 4, 2019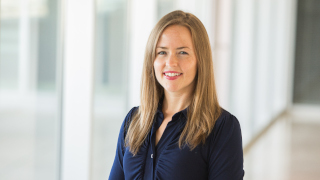 Katie Smith, an assistant professor of Education Leadership, Management and Policy whose research focuses on college students' career development and post-graduate outcomes, co-authored an article designed to inform and guide would-be student loan borrowers.
Entitled "5 Things to Consider Before Taking out a Student Loan," the article was authored with education professor David J. Nguyen of Ohio University and Monnica Chan, a Ph.D. candidate at Harvard.
Initially published in The Conversation, an independent and not-for-profit news organization that exclusively publishes the work of academics and researchers intended for a broader audience, "5 Things to Consider Before Taking out a Student Loan" was picked up by media outlets throughout the world— everywhere from the Chicago Chronicle, Salon and the Dallas Sun to the Toronto News, the Zimbabwe Star, the Paris Guardian and Beijing Bulletin (see a partial list below).
Smith and her co-authors write: 
That's how many students are going to college at the undergraduate level this fall. Of that number, roughly half – 46% – will take out federal student loans. It's a decision that could bring certain rewards – not the least of which is a well-paying job – but it can also come with serious economic consequences. 
The average debt for the class of 2017 was an estimated US$28,650. And not everyone is able to make steady payments on their student loans. The federal government reports that 10.8% of student loan borrowers who entered repayment in 2015 have since defaulted. 
As researchers who specialize in how money shapes the way people make education decisions, here are five tips for students and families thinking about how to pay for college. 
Read more at The Conversation. 
Partial List of Media Coverage for "5 Things to Consider Before Taking out a Student Loan."
Sep 1, 2019 Salon 
5 Things to Consider Before Taking out a Student Loan 
Aug 28, 2019 Chicago Chronicle 
5 things to consider before taking out a student loan 
Aug 28, 2019 Mexico Star 
5 things to consider before taking out a student loan 
Aug 28, 2019 Nigeria Sun 
5 things to consider before taking out a student loan 
Aug 28, 2019 Bangkok News 
5 things to consider before taking out a student loan 
Aug 28, 2019 San Antonio Post 
5 things to consider before taking out a student loan 
Aug 28, 2019 Dallas Sun 
5 things to consider before taking out a student loan 
Aug 28, 2019 Toronto News 
5 things to consider before taking out a student loan 
Aug 28, 2019 Zimbabwe Star 
5 things to consider before taking out a student loan 
Aug 28, 2019 Brunei News 
5 things to consider before taking out a student loan 
Aug 28, 2019 Bombay News Update 
5 things to consider before taking out a student loan 
Aug 28, 2019 Azerbaijan News.Net 
5 things to consider before taking out a student loan 
Aug 28, 2019 Malaysia Sun 
5 things to consider before taking out a student loan 
Aug 28, 2019 Beijing Bulletin 
5 things to consider before taking out a student loan 
Aug 28, 2019 Cambodia News 
5 things to consider before taking out a student loan 
Aug 28, 2019 Tennis Times 
5 things to consider before taking out a student loan 
Aug 28, 2019 Toronto Telegraph 
5 things to consider before taking out a student loan 
Aug 28, 2019 Asia Pacific News 
5 things to consider before taking out a student loan 
Aug 28, 2019 Europe Sun 
5 things to consider before taking out a student loan 
Aug 28, 2019 China National News 
5 things to consider before taking out a student loan 
Aug 28, 2019 Africa Leader Online 
5 things to consider before taking out a student loan 
Aug 28, 2019 Malaysia News.Net 
5 things to consider before taking out a student loan 
Aug 28, 2019 Turkmenistan News.net 
5 things to consider before taking out a student loan 
Aug 28, 2019 UAE 
5 things to consider before taking out a student loan 
Aug 28, 2019 Hong Kong Herald 
5 things to consider before taking out a student loan 
Aug 28, 2019 India Gazette 
5 things to consider before taking out a student loan 
Aug 28, 2019 Broadcast Communications 
5 things to consider before taking out a student loan 
Aug 28, 2019 Uzbekistan News 
5 things to consider before taking out a student loan 
Aug 28, 2019 Trinidad Times 
5 things to consider before taking out a student loan 
Aug 28, 2019 Hawaii telegraph 
5 things to consider before taking out a student loan 
Aug 28, 2019 Israel Herald 
5 things to consider before taking out a student loan 
Aug 28, 2019 Vietnamtribune 
5 things to consider before taking out a student loan 
Aug 28, 2019 Haitinews.net 
5 things to consider before taking out a student loan 
Aug 28, 2019 mumbainews.net 
5 things to consider before taking out a student loan 
Aug 28, 2019 Beijing News 
5 things to consider before taking out a student loan 
Aug 28, 2019 Macaunews 
5 things to consider before taking out a student loan 
Aug 28, 2019 Jakarta News 
5 things to consider before taking out a student loan 
Aug 28, 2019 Knoxville Times 
5 things to consider before taking out a student loan 
Aug 28, 2019 Tajikistan News.net 
5 things to consider before taking out a student loan 
Aug 28, 2019 Kyrgyzstan News 
5 things to consider before taking out a student loan 
Aug 28, 2019 North Korea Times 
5 things to consider before taking out a student loan 
Aug 28, 2019 Paris Guardian 
5 things to consider before taking out a student loan 
Aug 28, 2019 Seven Days Online
Categories: Education