Thursday, October 29, 2020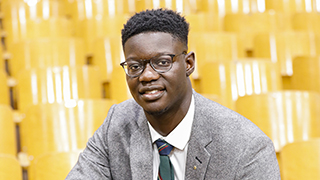 Professor Edmund Adjapong was featured in Inside Higher Ed, the Times Educational Supplement (UK) and on ABC-TV Boston's "CityLine." 
Adjapong, program director in the Department of Educational Studies, recently published the second volume in a series on what has come to be known as "Hip-Hop Education."
The series is entitled HipHopEd: The Compilation on Hip-Hop Education and is intended to provide new practical and strategic insights for scholars, practitioners, students, community members and policymakers as it relates to working with groups who have faced systemic oppression. Volume 2: Hip-Hop as Praxis & Social Justice is focused primarily on "knowledge of self." It also calls on educators to "decolonize the classroom." 
In Inside Higher Ed, Adjapong commented on "California legislation requiring all undergraduates across the 23-campus, 482,000-student California State University to take a three-unit ethnic studies class focusing on Native Americans, African Americans, Asian Americans or Latinx Americans in order to graduate."
The article, "Is It Time for All Students to Take Ethnic Studies?", notes: "We're in a critical moment where young people are seeing injustice but not necessarily understanding the root and stem of this injustice. I think they want to learn," said Edmund Adjapong, assistant professor of education at Seton Hall University. 'The challenge for institutions and faculty is to provide adequate, effective, sufficient content, curriculum and knowledge.'
Inside Higher Ed also notes that 
Some state curricula focus on the civil rights movement and how it applies to other contemporary human rights issues, while others focus more on slavery and how slavery relates to African Americans today. Adjapong believes the curriculum is often too limited.
U.S. educational institutions are often very Eurocentric, Adjapong said. In his classroom, he likes to talk about the achievements of people who are racial or ethnic minorities. He explores a narrative about a particular person so that students can see themselves reflected in that person in some way, even if they do not share the same background.
Telling people's stories makes them relatable and accessible to more students. It also avoids the pitfall of talking about Black history or other nonwhite history only through a negative lens.
'When we talk about people of color, and Black people specifically, in K-12 schools it's often either about slavery or the civil rights era,' Adjapong said. 'Those things are important, but rarely do we see the positive being highlighted.'

In the Times Educational Supplement or TES, Professor Adjapong was featured in the magazine's cover story: "Is Your Pedagogy Prejudiced?" 
In addition to being quoted at length regarding systemic racism within education, the magazine devoted a special half-page callout section to Adjapong, who is recognized as "one of the leading theorists behind the HipHopEd movement in the U.S." 
TES notes that Adjapong writes: "In the United States, despite the plethora of curricula disseminated across schools, teachers are often met with the responsibility of teaching their unique group of students through a prescribed one-size-fits-all curriculum. But all students are not one and the same."
On ABC TV, Boston's "CityLine," the 8-minute video segment features footage of Adjapong in his role as the director of the Science Genius Program, a program that engages urban students in the sciences through Hip-Hop, and the director of The Science Genius Academy, a program that encourages and prepares students to pursue STEM careers while providing mentoring and support.
The ABC-TV segment also features an interview with Professor Adjapong and City Line's host, Karen Holmes Ward, where they discussed his former work as middle school science educator at a New York City public school in The Bronx and how, as a young man, Adjapong was heavily influenced by a HipHop educator who helped him to discover his own love of science, and how his introduction to HipHopEd allowed him to embrace his "genuine self" in a classroom that had once felt alien to him. 
WCVB Boston, ABC-TV 5 "CityLine"
Inside Higher Ed, "Is It Time for All Students to Take Ethnic Studies?"  
Times Educational Supplement,  "Is Your Pedagogy prejudiced?"  
Categories: Education , Nation and World