Thursday, September 9, 2021
Undergraduate Educational Studies (EDST) students connected with their global counterparts via Teams on Tuesday, September 7, 2021. The unique online event brought together education undergraduates representing three Catholic universities and countries: Seton Hall University (USA); Universidade Católica de Pernambuco (Brazil); and Universidad Mariana (Colombia). The event was attended by 15 undergraduate students and 5 faculty members. The event organizers were the following: Dr. Antonio Henrique Coutelo de Moraes (UNICAP); Mag. Ana Carolina Benavides Martínez (UM); and Dr. Bryan Meadows (Seton Hall University).
The event opened with introductions and a statement of purpose for the event: To provide a space for future teachers to reflect on their own professional development through dialogue with their counterparts in different global settings. In addition, the event functioned as a space for future teachers to network with one another and to thus expand their circle of teacher colleagues beyond just their immediate location.
After some time in breakout groups to introduce themselves and to learn a little about one another, the student attendees returned to the main Teams room to address four questions in open forum discussion: (1) What do you have to do to become a teacher in your country?; (2) What do you like the most about the teaching profession?; (3) What do you think is a major challenge for education in your country or city?; and (4) What teacher inspired you when you were in primary/secondary school?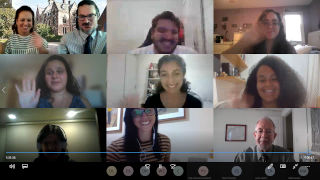 As a collective group, the students and faculty addressed each question with thoughtful insights, personal anecdotes, and candor. The conversation was lively, energetic, and inspiring. One takeaway from the discussion was how there are both similarities and differences in the teaching profession across global contexts. Attendees also shared their previous experiences with teachers which led them to make their own decision to pursue education as a career. Some stories shared were heart-warming but others were heart-breaking. All were inspiring.
At the close of the event, student attendees exchanged contact information with one another via an online bulletin board app. The organizers of the event wish the students continued conversation and dialogue as they wrap up their undergraduate studies and launch into their respective careers in education.
This event is part of a broader initiative to increase Seton Hall University's partnership relations with Catholic universities globally. Related components of this initiative include Seton Hall's inclusion in the International Federation of Catholic Universities (IFCU) as well as a 2021-2022 planned webinar series shared between Seton Hall University and Universidad Católica de Santa Fe (Argentina). To learn about additional global student forum events being planned for the future, please contact Dr. Bryan Meadows in Educational Studies (EDST).
Categories: Arts and Culture , Nation and World