Wednesday, September 4, 2019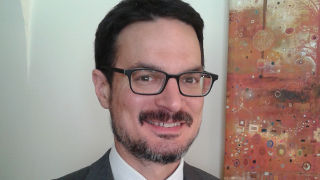 Bryan Meadows, EDST Faculty
Bryan Meadows, assistant professor and TESOL (Teaching of English to Speakers of Other Languages) program director in the Department of Educational Studies (EDST), visited the South Orange/Maplewood school district to provide a two-hour workshop session to secondary teacher new hires on August 28, 2019. The title of the session was "Be an Advocate for English Learner (EL) Students." During the session, Bryan Meadows presented to the teacher audience general information that all teachers need to be successful working with English Learners (ELs) in public school settings. This includes an understanding of English Learner student demographics and the Federal and State laws that guarantee English Learner students equitable access to quality educational opportunities. He next highlighted key strategies and techniques all teachers can use in their classrooms to support EL success. These include getting to know the strengths and challenges of EL students as individuals; cultivating a welcoming and inclusive classroom environment; and differentiating classroom activities, assignments, and materials. 
The session opened with an awareness-raising activity in which the audience viewed a brief excerpt of the short film, Immersion by Richard Levien (2009). The short film is about a 10 year old recent arrival to a California public school from Mexico who attends an English-only mathematics classroom. The video excerpt inspired a lively and insightful dialogue among the teacher audience members. Teachers viewing the excerpt immediately recognized problem areas in the classroom portrayal and identified thoughtful corrective actions. To close the workshop, the audience formed into groups according to content area. They were presented with case study EL student profiles and a sample discipline-specific classroom task. The groups worked together to develop appropriate language supports for the sample EL student given the classroom task. 
The session was arranged by Dr. Ramón Robles-Fernández, District-Wide ESL/Bilingual Supervisor for South Orange/Maplewood Public Schools. The workshop was part of a four-day professional development orientation provided to all new hires to the district. This is Bryan Meadows's first involvement with the workshop series. Bryan Meadows heads the TESOL Program (Dept of Educational Studies) which prepares practicing NJ public school teachers for an additional endorsement in ESL (English as a Second Language). The TESOL Program wishes the new teacher hires a successful school year.
Categories: Education