Thursday, October 7, 2021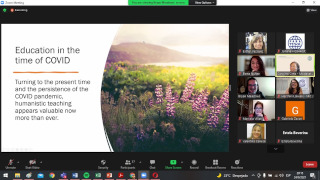 Assistant Professor Bryan Meadows, from the Department of Educational Studies, was an invited plenary speaker to the PARATESOL Conference 2021 held virtually September 24-25, 2021. The international conference was hosted by Paratesol Paraguay, the national organization of English language instructors in Paraguay. The 200-plus attendees included education scholars, classroom teachers, graduate and undergraduate students. The theme of the conference was Building Trust in the English Language Classroom. From the organizers, the conference was designed to provide "teachers with tools that promote individual learning, mutual trust and personal confidence within hybrid, virtual and in-person classes, considering the volatile scenarios of these times." Connecting with the conference theme, Dr. Meadows's plenary talk was titled, "Supporting students in difficult times: The contribution of humanism in ELT (English Language Teaching)."
In his plenary talk, Dr. Meadows guided the audience through four topics: (1) Humanism in education; (2) Humanistic teaching in ELT; (3) The desperate need for humanism in the age of COVID; and (4) Classroom supports for students as they return to in-person learning. The plenary was expertly moderated by Dr. Carolina Ortiz, a PARATESOL executive committee member, which allowed for an engaging dialogue during the plenary talk presentation. The plenary talk was livestreamed via the Paratesol Paraguay social media page.
International conference appearances by SHU faculty are valuable to our university because the appearances allow individual faculty members to cultivate scholarly relationships with their international counterparts. Such relationships between colleagues then set the foundation for international research studies as well as student study abroad exchanges. In this way, SHU faculty participation in international venues helps to strengthen the university's engagement in global discourses of teaching and scholarship.
Categories: Education , Nation and World