Seton Hall alumnus Matthew W. Horace M.A. '13 was interviewed on Pirate's Eye Alumni Podcast
Back in June, Seton Hall alumnus Matthew W. Horace M.A. '13, CPP, Chief Security Officer of the Mayo Clinic, shared his experience as a graduate alumnus on Pirate's Eye Alumni Podcast. Horace discussed his career journey that has led him to the Mayo Clinic, including a nearly 25-year stint as a Federal Agent.
Hosted by Viannca Vélez '10, this episode features an inspiring story about Horace's career success, including the publication of his book, landing a C-suite executive position at the nation's leading hospital, and ways he serves his community.
Matthew Horace opens the episode with his experience as an adult learner and graduate alumnus from Seton Hall. Horace received his undergraduate degree at Delaware State University studying English as a scholarship athlete where he was a star football player. After graduating, he transitioned his career by applying to police organizations, who saw Horace as valuable due to his ability to write and speak, an essential skill for reporting and communications. He landed his first post-undergraduate job at Arlington County Police Department in Virginia working in local and state law enforcement before moving on to become a federal agent covering high profile investigations with the Department of Justice.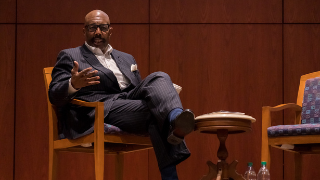 Matthew Horace took part in a special event at Seton Hall in 2020 which looked at the challenges facing law enforcement professionals.
As a federal agent, Horace explains his family moved nine times, with the longest stretch consisting of 10 years in the New Jersey and Pennsylvania area. Later in his career and on recommendations of his long-time friends who were graduates of Seton Hall's Police Studies program, he decided to investigate the University's graduate programs, and then enrolled in the Police Studies program himself.
After leaving his government position in 2012, Horace worked at several corporate positions in security including as Senior Vice President of Security Operations in Denver, Colorado. While there, he was recruited for his current role as Chief Security Officer at the highly regarded Mayo Clinic.
"When you look at the uniqueness of Seton Hall and think about the fact that the university was founded in 1856. And you look at the history of Saint Elizabeth Ann Seton and the steep tradition of this Catholic University. She was the first citizen born in the United States to be given the title of Saint.," explains Horace. "And now you juxtapose that with where I work now as the Chief Security Officer for the Mayo Clinic, which was founded in 1863, only seven years after Seton Hall (was founded), by Franciscan sisters."
Horace is amazed and inspired by the fact that he attended one of the oldest diocesan universities in the United States and he is currently working for an organization also founded on Catholic tradition.
Everywhere he went, even during his travels or career relocations, Horace said often ran into someone who attended Seton Hall, and found that each one was proud of being a Pirate. "I love that about the school and the connections. You don't have to go very far to find another Seton Hall graduate."
Among his many roles, Horace has been as security and law enforcement analyst for major media outlets such as CNN, the Wall Street Journal and NBC. He is the author of  The Black and The Blue, which Congressman John Lewis called, "A must-read for anyone who wants to understand the intersection between race and police brutality in America."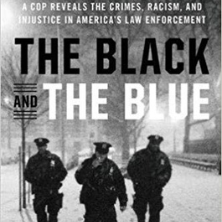 Matthew Horace's book, The Black and the Blue, is available on Amazon and Audible.
The book gives an insider's account of how racism and systemic problems challenge America's police departments. It describes how good officers, who pledge to protect and serve, are often hampered by implicit bias and institutional weaknesses. During the interview, Horace described people's initial reactions in 2018 when the book first came out versus today, where, he says, society's views about law enforcement and policies have shifted. In the beginning, he explains, most readers misunderstood his book and thought he was attacking law enforcement. But as time went on, many found the book contained balanced writing in which Horace was in support of law enforcement through positive change and breaking down systematic barriers in our society. He also used this book as an opportunity to educate the public about policing while educating police about people.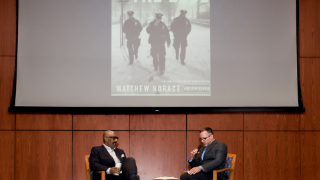 Horace and Professor Thomas Shea spoke about the challenges America's law enforcement members can face in carrying out their pledge to serve and protect.
Horace closes the episode by relaying this message "choose courage over avoidance" to inspire others to achieve the level of success they've always dreamed of. He foreshadows his future in his career and in life by continuing to be a servant leader, growing his coaching business, and writing more books to motivate others. He says there's always more to do, there's always more people to help and mentor. "Never stop helping. Never stop giving. Never stop serving."
About Matthew W. Horace M.A. '13, CPP
Matt is a recognized executive, coach, leadership consultant speaker and author. A well regarded and experienced C-Suite executive leader in government (SES) and corporate America, he has created, led and transformed teams in national and transnational organizations. Passionately moving individuals, teams and organizations from where they are to where they are going, he has mentored and coached 100's and considers it an honor to have moved so many from where they were to where they are.
An award-winning author, Horace has written two books and has also served as a paid on-air contributor to national news having been featured on CNN, FOX, NBC, CBS and ABC and the BBC and written for The Wall Street Journal Crisis of the Week Column.
In 2020, Seton Hall welcomed alumnus Matthew W. Horace back to campus for an event sponsored by the College of Education and Human Services. Matt shares his experience and insight on crime, racism and the interaction between law enforcement and the African American community that included a discussion, Q & A, and book signing.
Visit Matthew's website: www.matthewhorace.com
Categories: Alumni , Education , Nation and World