Love Thy Neighbor: DOVE Toy Drive
November 1, - December 14, 2021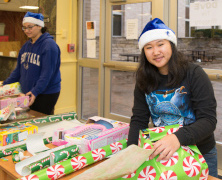 Each Christmas season, DOVE provides gifts to several schools and agencies in Newark, the Maplewood South Orange School District, and the Don Bosco Youth Center. In addition to local sites, DOVE donates gifts for the impoverished children in Appalachia, West Virginia, as they have done for over 25 years. Many of these children would not receive a Christmas gift if not for DOVE's donations, and we are especially devoted to making Christmas happen for our vulnerable community partners who have felt the effects of the COVID-19 pandemic most.
Each year, members of our Seton Hall network donate upwards of 1,500 toys for children in need. We then sort, wrap, and load the gifts into the DOVE vans. It's your generosity that makes this all possible. Thank you for continuing to be a part of this Christmas miracle. Merry Christmas!
 Physical Donations
Toys may be dropped off at the DOVE office in Boland Hall (9 a.m.-5 p.m. Monday through Friday). 
Make a Donation
DOVE has set up a giving campaign to collect monetary donations that will be used in support of the toy drive.
DOVE's Wish List (all ages)
Puzzles
Board Games
Crafts
Indoor/outdoor active games
LEGO Blocks
University Life Service Points: 1 point for each toy of a $10 value (maximum 2 points)
DOVE's first 500 donations will receive a Seton Hall Pirate embroidered Santa Hat! 
A thank you note from the Genoa Christian Center in Appalachia:
Dear Seton Hall University and your many elves,
I want to thank each of you who bought a gift for a child. You certainly made a difference in the Christmas for the children here. I wish you could have seen the faces of the parents and children when Santa brought their gifts… they were glowing! Many parents thanked me and I want to extend that to you, who provided the many gifts. May God bless each of you for your generosity.
Gratefully,
Sr. Monica