Dr. Bernard LaFayette, Jr. will speak at Seton Hall University as part of the South Orange Community Care & Justice initiative's Peace and Community Justice speaker series. The event, in which Dr. LaFayette will engage in conversation with Seton Hall's Rev. Dr. Forrest Pritchett as well as students and youth activists from the community, will be held on Sunday, May 2 at 6:30 to 8 p.m. Live streamed from Jubilee Hall at the University's campus in South Orange, New Jersey, attendance is free and open to the public online, but registration is required.
"Dr. Bernard LaFayette's biography essentially comprises the history of nonviolent civil rights activism in this country," said Professor Juan Rios, Director of Seton Hall University's Master of Social Work program and a director of the Community Care & Justice initiative. "Dr. Martin Luther King, Jr. entrusted Lafayette with the leadership of some of the most important civil rights organizations and initiatives this nation has ever known. And the face of the 21st century is markedly different – and better – on the basis of those major MLK decisions and Dr. LaFayette's work."
South Orange Village Trustee Donna Coallier, chair of the Village's Health and Public Safety Committee and a leader of the Community Care & Justice initiative agreed, "We are deeply honored to welcome Dr. LaFayette to South Orange. As we lead restorative and transformative practices here in South Orange it is imperative that we lean on the history, wisdom and accomplishments of leaders such as Dr. Bernard LaFayette and Rev. Dr. Forrest Pritchett."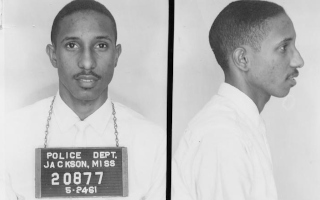 Dr. Bernard LaFayette, Jr.
A Civil Rights Movement leader and activist for more than 60 years, Dr. LaFayette was arrested 30 times in his nonviolent pursuit of social justice and equality before the law. He is a minister, educator, lecturer, and a noted authority on the strategy of nonviolent social change. He co-founded the Student Nonviolent Coordinating Committee (SNCC) in 1960 and was formally entrusted with its official leadership by Dr. Martin Luther King, Jr. in 1967. He was a leader of the Nashville Movement Lunch Counter Sit-ins in1960, the Freedom Rides in 1961 and directed the Alabama Voter Registration Project in Selma in 1962. He was appointed National Program Administrator for the Southern Christian Leadership Conference (SCLC) and National Coordinator of the Poor People's Campaign by Martin Luther King, Jr in 1968.
Dr. LaFayette has also served as Director of Justice and Peace in Latin America, Chairperson of the Consortium on Peace Research, Education, and Development, Director of PUSH Excel Institute, and minister of the Westminster Presbyterian Church in Tuskegee, Alabama.
An ordained minister, Dr. LaFayette earned his B.A. from the American Baptist Theological Seminary in Nashville, Tennessee, and his Ed.M. and Ed.D. from Harvard University.
He is co-author of The Leaders Manual: A Structured Guide and Introduction to Kingian Nonviolence and the Curriculum and Training Manual for the Martin Luther King, Jr. Nonviolent Community Leadership Training Program. He is also the author of In Peace and Freedom: My Journey in Selma. Published in 2013, Congressman John Lewis wrote the foreword to the book, stating, "A powerful history of struggle, commitment, and hope. No one, but no one, who lived through the creation and development of the movement for voting rights in Selma is better prepared to tell this story than Bernard Lafayette himself." In May, 2014, In Peace and Freedom was honored with the prestigious Lillian Smith Book Award.
Rev. Dr. Forrest Pritchett
An esteemed activist and mentor who currently serves as the director of Seton Hall University's Dr. Martin Luther King Jr. Leadership Program and its Special Programs in Freshman Studies, Forrest Pritchett has been a mainstay at Seton Hall University since his arrival in 1978. He has been the assistant dean of the Black Studies Center and an adjunct professor in the department of Africana Studies. He is also, along with his wife Barbara, a minister at Christ Church in Rockaway, New Jersey.
Though his early youth in Atlantic City, New Jersey was marked by gang involvement and a short stay in a juvenile reformatory, the prayers and advocacy of his community gained Pritchett's release. Since then, Pritchett has worked tirelessly for the release of his people and all God's people from the bondage of racism in its myriad forms. From participating in sit-ins as a Delaware State University student during the 1960s to most recently organizing an MLK Day symposium that attracted hundreds of students, educators and activists to Seton Hall, Pritchett recounts the "50-plus years of my life working with many others – inch by inch – to help this country to move forward to a better place. A place that God would have us be."
In 2016 the Office of President Barack Obama, along with the Corporation for National Community Service, presented Pritchett with the President's Lifetime Achievement Award.
Rev. Dr. Pritchett Pritchett has also been the recipient of the New Jersey Association of Black Educators' Black Educator of the Year Award; the Association for the Study of Afro American Life and History's Frederick Douglass-Sojourner Truth Award; and the National Association for the Advancement of Colored People: New Jersey Convention's Distinguished Educator Award; and at Seton Hall, the Pirate Pride Award, the University McQuaid Medal and Employee of the Year.
About the Program
The Peace and Community Justice speaker series in partnership with the South Orange Community Care and Justice initiative and Seton Hall University is seeking community unification and transformative practices through facilitated dialogue, collaborative problem solving, and non-directive forms of mediation.
Community Care and Justice (CC&J) is led by core community values such as universal dignity and worth, social justice, and the importance of human relationships and integrity.
Goals for the Speaker Series Experience
Participants will:
Learn from the wisdom and teachings of Dr. Lafayette as well as the opportunity to ask questions. The event will be 1.5 hours, which will consist of an opening and a conversational exchange and wisdom from Dr. Forrest Pritchett and Dr. Lafayette, and panel questions from community members in dialogue.
Critically reflect upon the narratives and experiences of local and global social justice advocates such as Dr. Lafayette and his Civil Rights Era colleagues, among others.
Deepen their knowledge of global social justice and nonviolent peacemaking in the context of social work, social justice pedagogy, and practice with an aim toward making positive change within their own communities.
Reflect upon critical primary principles that underlie and inspire social justice advocates and practitioners and explore how to activate the CC&J Community to become socially just peacemakers.
Seton Hall's Committee on Diversity, Equity and Inclusion is a sponsor of this program. The Committee's mission is to foster conversation and focus attention on our universal desire to make our campus a welcoming community for all. It defines a sense of community as the feeling of being part of an inclusive community built on mutual respect and appreciation. This event is partnered with the Masters of Social Work program at Seton Hall University. Registration is available here »
Categories: Arts and Culture , Faith and Service , Nation and World