Forum on Modern Slavery: 21st Century Solutions
Friday, September 27, 2019 8 a.m.– 4:30 p.m.
Bethany Hall, Seton Hall University 
On Friday, September 27, 2019, the School of Diplomacy and International Relations, in collaboration with the Slave Free Community Project, the New Jersey Coalition Against Human Trafficking, and the International Justice Project will host a special event focused on finding solutions to the crisis of modern slavery, in which 25 million people are trapped in the sex trade and in other forms of forced labor around the globe.
The conference will include an Honorary Degree Ceremony and remarks by Nadia Murad on Justice for Survivors: Rebuilding Lives of Sexual Slaves. Ms. Murad, 26, who was kidnapped from her hometown in 2014 and held by ISIS for three months, received the Nobel Peace Prize for her work to prevent sexual violence and genocide.
The program will take place in Bethany Hall on the Seton Hall campus, and is open to all members of the local community free of charge.
The day-long conference will examine topics such as the current status of modern slavery in the U.S., slavery as an instrument of armed conflict, the impact of the UN Sustainable Development Goal 8.7 on slavery, and how slavery is being prevented with the help of education, visual media, and current technology. Expert panelists at the top of the field will discuss the potential of current solutions, their vision for the future, and what the public can do to eradicate slavery in our communities.
Honorary Degree Recipient Nadia Murad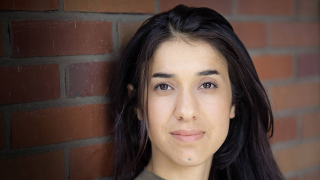 Born into a farming family in Kojo, Iraq. Murad is a member of the Yazidi ethnic and religious minority group. When she was 19 years old, the Islamic State, commonly known as ISIS, attacked her village and killed 600 Yazidi men, including several of her family members. ISIS took Murad prisoner and subjected her to physical and sexual abuse. After three months in captivity, Murad escaped to a refugee camp before moving to Germany.
Murad is now an advocate for awareness about sexual violence and genocide of the Yazidi people under ISIS. In 2018, Murad shared the Nobel Peace Prize for her advocacy. Murad received the Václav Havel Human Rights Prize from the Council of Europe, which recognizes "outstanding civil society action in defense of human rights." She is a frequent speaker on the topic of sexual violence and slavery as tools of modern war.