Thursday, October 21, 2021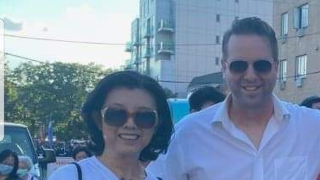 SHU Grad Student Mike Coleman with Film Director Ann Hu
October is Dyslexia awareness month, and School of Diplomacy Graduate Student Mike Coleman is working to increase awareness. For the past several months, Coleman has been working as the campaign manager for the newly released film Confetti. Since the film's early October premier, Coleman has collaborated with members of the New York State Assembly, the NY Mayor's office, Governor's office, and Dyslexic celebrities to conduct a red-carpet film screening In New York City.
Written and directed by award-winning film maker Ann Hu, Confetti is a semi-biographical story based on Hu's own experiences raising a Dyslexic child. It follows a mother and her Dyslexic daughter as they journey to America seeking an education that will best suit her daughter's needs, often facing struggles many immigrant families experience when arriving to America.
Coleman's involvement in this film was to establish a movement around Dyslexia awareness. Motivated by his own experiences with Dyslexia, he wanted to increase public knowledge and understanding of Dyslexia. "My mother was a Dyslexia specialist so as a child I really had an understanding of how [Dyslexia] was undermined and really not understood," said Coleman, "this is an incredible opportunity to bring awareness to that and to families that are struggling around the world."
He describes the film as "a mother's struggle to understand what her daughter has and how much of a gift it is", but this story is really an example of how the public struggles to understand Dyslexia. Coleman continued by saying this is an incredible opportunity to share stories of successful people that have turned their Dyslexia into a blessing and a gift. Gaining a different public perspective towards Dyslexia is what Coleman hopes to achieve.
"When we turn a light bulb on that's because of Dyslexia. It's because of Thomas Edison's ability to understand innovation and creativity, and that's what Dyslexic people do. They see things differently than most people." Said Coleman.
As the campaign manager, Coleman hopes to build this movement globally. He is currently working to do a film screening at the United Nations and is striving to collaborate with the White House to use this film as an apolitical tool to bring awareness to Dyslexia. Most recently, he assisted in drafting Senate Bill S7418 for the New York State Senate, which relates to screening and services for Dyslexic children.
"Michael's passion for bringing awareness to Dyslexia has truly made him an incredible asset to our film team. His ability to navigate and talk with politicians and educational thought leaders on this subject makes him stand out as true diplomat, and brand ambassador for my film." Said Hu.
Michael Coleman is a Graduate student in the Executive Master's Program at the School of Diplomacy and International Relations. In the future, he dreams of running for Congress and plans to continue his work raising awareness of Dyslexia. "Myself and my film team at Confetti love working with Michael." said Hu. "His exceptional ability to connect and imagine a vision to form this incredible movement of bringing awareness to the subject of Dyslexia around my film has truly made Michael a diplomat of literacy diplomacy. I imagine Seton Hall is so proud to have him!"
The School of Diplomacy's Executive Master of Science in International Relations is designed with the mid-career professional in mind, the School of Diplomacy's Executive M.S. in International Affairs offers the training needed to develop additional skills in diplomacy and international relations within a reduced course sequence. The program builds on students' demonstrated knowledge of international affairs and prior relevant work experience. It provides a unique level of flexibility for global-minded professionals looking to advance their careers, including military officers, international business specialists, returned Peace Corps volunteers, foreign diplomats and more.
Categories: Arts and Culture , Campus Life , Education