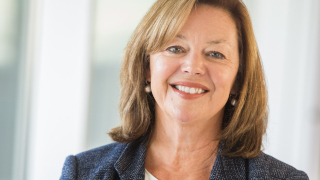 The School of Diplomacy is excited to announce that another member of our community is joining the Fulbright Scholar ranks. Professor Ann Marie Murphy, Ph.D., was awarded a 2019-2020 Fulbright U.S. Scholarship to conduct research through the Association of Southeast Asian Nations (ASEAN) Research Program.
The Fulbright Program supports researchers and practitioners in serving as professors or expanding their research in universities and institutions around the world. Over the course of the next year, a multi-country award will allow Dr. Murphy to carry out research in Indonesia, Thailand, and Vietnam. She will be conducting her research under the affiliation of key strategic think tanks in each country, including two where she has previously served as a visiting scholar. These think tanks include: the Institute of Security and International Studies in Bangkok; the Centre for Strategic and International Studies in Jakarta; and the Diplomatic Academy of Vietnam in Hanoi.
As part of her application process, Dr. Murphy submitted a research project proposal entitled "Geostrategic Challenges, Domestic Politics, and Foreign Policy: Exploring the Linkages in Indonesia, Thailand, and Vietnam." In the proposal, she argued that the great power rivalry between the United States and China is putting pressure on Southeast Asia's middle powers to align with one side or the other. At the same time, rising political contestation in the domestic politics of Southeast Asian states is increasingly influencing their foreign policy choices. Indonesia, Thailand, and Vietnam are the focus of Dr. Murphy's research for three reasons: their influence on regional politics in Southeast Asia; the leadership role they play in ASEAN; and the increasing significance of domestic politics in their foreign policy decisions.
This work is significant on two levels. Theoretically, this research fills a gap in the existing international relations literature which rarely discusses the strategic behavior of middle powers. Empirically, Professor Murphy argues that the future strategic landscape of the Indo-Pacific will be determined in part by the alignment decisions of Southeast Asian states. Using insights from Indonesia, Thailand and Vietnam, Dr. Murphy hopes to provide informed analysis on the strategic behavior of other Southeast Asian states and the impact on the broader region.
With this new opportunity to fully immerse herself in Southeast Asia on the horizon, Dr. Murphy is enthusiastic about what the next year will hold. While she thoroughly enjoys teaching, she knows this award will allow her to dedicate more time to her research interests and ultimately enrich the classroom experience for her students. Living across the world from her Diplomacy colleagues and family will have its challenges, but they are challenges that Dr. Murphy is ready to embrace with open arms.
Learn more about the research projects and interests of our faculty by visiting our faculty Web page.
Categories: Nation and World